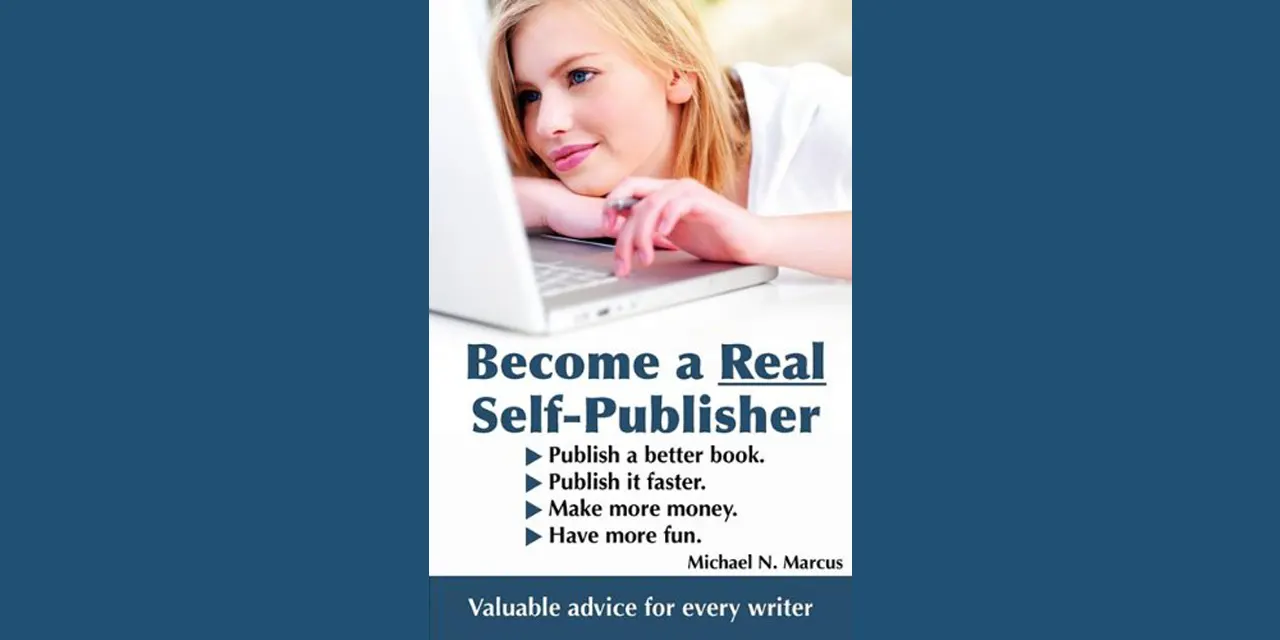 By Scott Lorenz
Westwind Book Marketing
If you want the roadmap on how to become a successful author and publisher, then "Become a Real Self-Publisher" by Michael N. Marcus is the book for you. In a pull-no-punches style Marcus cuts to the chase in the often confusing and treacherous book publishing and book marketing game.
As a writer and successful publisher of books for more than 30 years Marcus speaks from personal experience. He implores authors to become real publishers and not customers of vanity presses or companies that publish on demand which Marcus says does not exist. Why? Nobody publishes on demand; they "print" on demand, he says.
Marcus compares and contrasts publishing options including LULU, Outskirts Press, Infinity Publishing, Amazon, Author House, Book Surge, Xlibris, Lightening Source and traditional publishing in a "no-holds- barred" approach. I find his approach refreshing because so many authors I speak to as a book publicist really need someone like Marcus, who has no hidden agenda, to tell it like it is.
Besides discussing the benefits and pitfalls about every type of publishing option in the marketplace, Marcus also offers tips on what to do if you get a bad review. Says Marcus, "Don't let a bad review ruin your day or your life. Some reviewers have hidden agendas like working on a competing book." Marcus points out that it is rare that 100% of a review is bad and that there are usually a few sentences that can be pulled for the purpose of helping you sell more books.
"Become a Real Self-Publisher" also includes a list of publishing terms authors need to know about such as: ARC (advance reader copy) and POD (print on demand) …as well as places authors don't want to see like the Slush Pile which is that place where unsolicited manuscripts end up awaiting an evaluation by a publisher or agent.
"Become a Real Self-Publisher" by Michael N. Marcus is a must read for all authors whether they are first time authors or on the New York Times bestseller list. It's written in a serious but entertaining style with a little humor tossed in. I highly recommend it.
Another book marketing resource for authors is my friend Dave Chesson who has created a step-by-step process. I highly recommend you check out his article about the topic. Then get back to me when you are ready begin your book marketing journey. https://kindlepreneur.com/book-marketing-101
Book publicist Scott Lorenz is President of Westwind Communications, a public relations and marketing firm that has a special knack for working with authors to help them get all the publicity they deserve and more. Lorenz works with bestselling authors and self-published authors promoting all types of books, whether it's their first book or their 15th book. He's handled publicity for books by CEOs, CIA Officers, Navy SEALS, Homemakers, Fitness Gurus, Doctors, Lawyers and Adventurers. His clients have been featured by Good Morning America, FOX & Friends, CNN, ABC News, New York Times, Nightline, TIME, PBS, LA Times, USA Today, Washington Post, Woman's World, & Howard Stern to name a few.
Learn more about Westwind Communications' book marketing approach at https://www.WestwindBookMarketing.com or contact Lorenz at [email protected] or 734-667-2090 or fill out the form below. Follow Lorenz on Twitter @aBookPublicist. Want help titling a book? Check out Scott Lorenz's new award winning, bestselling book: Book Title Generator- A Proven System in Naming Your Book www.BookTitleGenerator.net.
Would you like help promoting your book?
If so, tell us a little about your book. What is the title? Do you have a publisher? What is the publish date? How many pages is your book? What is the cost? Do you have web site? What is your specific goal I.E., to make money, raise awareness, get the attention of an agent or publisher, sell the story to a movie or TV studio or something else?
Submit the form below with this information and we'll get back to you as soon as possible. Thank you!