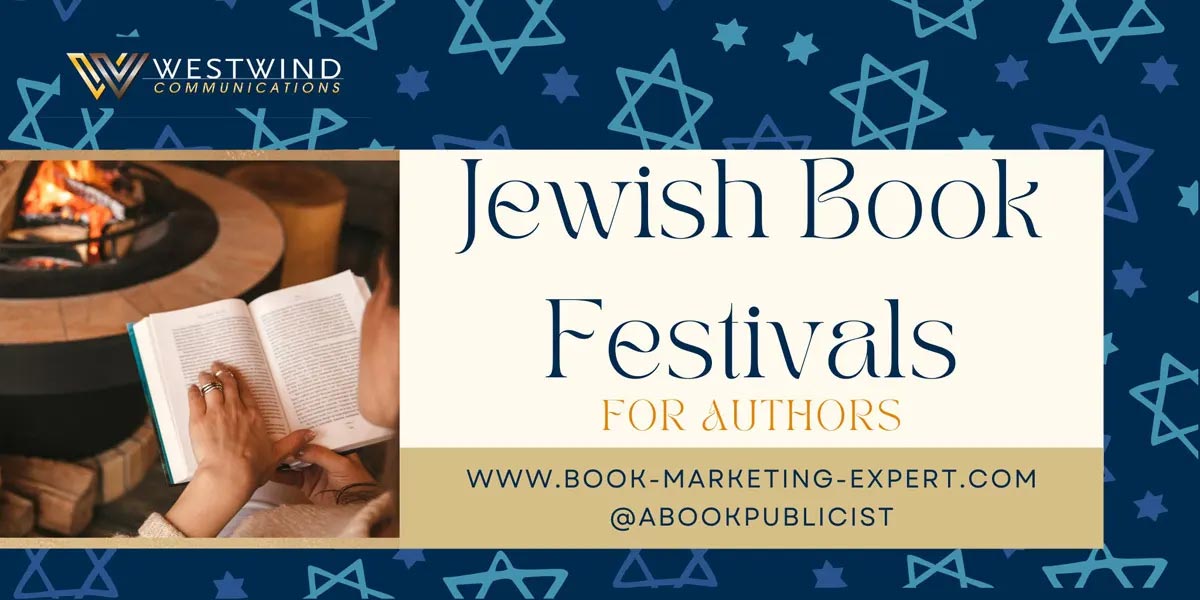 By Scott Lorenz
Westwind Communications
Book festivals and fairs are held year-round all over the world. As a book marketing specialist, I am the first to impress on authors the new and powerful marketing avenues open to all authors on the Internet – from websites and book trailers to social networks like Facebook, Twitter and YouTube. While these are excellent tools when used properly, authors should never overlook opportunities to meet the reading public face-to-face.
Consider visiting some of these Jewish book fairs and festivals
If you are a Jewish author or specialize in writing about Jewish issues, you should consider visiting some of these Jewish book fairs and festivals.
Cherie Smith JCC Jewish Book Festival will occur on February 11-16, 2023, in Vancouver, BC. There will be author talks and Q&As. This event usually attracts over 5,000 people of all ages. For more details, call 604-257-5156 or email [email protected]. You can also click here.
​​London International Literacy Festival's Jewish Book Week will occur February 26 – March 6, 2023, in London. It will feature Jewish writers and themes and a number of interesting discussions. Click here for more details.
CJE Jewish Book Festival will occur March 18 – 26, 2023, The Center for Jewish Education presents Charlotte's second annual Jewish Book Festival. Click here for more details.
Mark your calendars for the annual Berrin Family Book Festival of Alper JCC Miami—featuring 40+ renowned authors beginning in September each year. Whether you're a book lover or simply interested in hearing from names synonymous with pop culture and bestsellers, there's an event for everyone. October 25, 2022 – April 24, 2023. Click here for more details.
Greater Naples Jewish Book Festival will be held from November 1, 2022, to March 22, 2023, in-person in Naples and on Zoom. It will include a wide array of genres and author presentations. For further details, call (239) 263-4205, email [email protected] or click here.
Mandel JCC in Beachwood, Ohio will be celebrating the 23rd Annual Festival of Jewish Books & Authors from November 9, 2022, to March 19, 2023. Stay tuned for details and a full listing of authors, which will be announced this month! For information please contact (216) 831-0700. Please check here for announcements.
Jewish Book Council's Jewish Book Month will be held 30 days prior to Hanukkah. This is an annual event on the American Jewish calendar dedicated to the celebration of Jewish books. The Jewish Book Council has about 120 mem­ber orga­ni­za­tions across North Amer­i­ca, includ­ing JCCs, syn­a­gogues, Hil­lels, Jew­ish Fed­er­a­tions, and cul­tur­al cen­ters. Please click here for more details.
Its network organizes over 1,300 virtual and in-person pro­grams for its mem­ber sites. These include special programs for children and families, cooking demos and discussions about food and Jewish identity with cookbook authors, Yom HaShoah pro­gram­s with authors of recent Holo­caust mem­oirs, fic­tion, and his­to­ry, and events with LGBTQ+ activist authors. There are also intimate book clubs and salon experiences, mindfulness workshops, and so much more.
I think the Jewish Book Council is a terrific resource for Jewish authors. The services offered are extremely valuable and worth every penny. This is "MUST DO" for Jewish authors. Click here to review the guidelines for participating.
JCC Dallas will host the Dallas Jewish Bookfest on January 26, 2023 – March 22, 2023. For more information, please email [email protected] or click here. The mission of BookFest is to celebrate the written word brought to us by Jewish authors and books with Jewish content. Each year we seek the very best authors and books to provide a window to the Jewish experience and give our community members the opportunity to engage with the person behind the book while discovering what inspires the author in his or her creative work.
Gordon JCC's Nashville Jewish Book Series will take place until May 2023 in Nashville, TN. It features books that revolve around Jewish themes and topics plus books that are written from a Jewish point of view. Click here for further information.
Marcus JCC Atlanta's 22nd Edition of the Book Festival of the MJCCA will be held January 2023 to June 2023. For 20 successful years, the Book Festival of the MJCCA has provided our community with a literary extravaganza featuring an exciting lineup of the year's most exceptional authors, speakers, and celebrities. Please join thousands of your fellow book lovers to listen, meet, and interact with your favorite authors in a variety of forums, including author meet-and-greets, book signings, a community read, and panel discussions. Click here for more details.
JCC of Metro Detroit's 71st Annual Jewish Book Fair will be held November 1 – 13 2023. At this event, fabulous authors from all over the world will present their books. For further information, email [email protected] or visit jccdet.org.
St. Louis JCC's 44th Annual St. Louis Jewish Book Festival in St. Louis will be January 17, 2023, to March 27, 2023. All author events take place at the Staenberg Family Complex unless otherwise noted. For more information, please visit their website.
Jewish Community Center of Greater Ann Arbor is hosting an event November 6-18, 2023. Contact the Welcome Desk at (734) 971-0990 for more information. You can also click here.
United Jewish Federation of Tidewater & the Simon Family JCC's Lee and Bernard Jaffe Family Jewish Book Festival will take place throughout 2023 in Virginia Beach. For further details, contact Jill Grossman at 757-965-6137 or [email protected]. You can also click here.
Book fairs typically seek out guest speakers. By volunteering to speak at a Jewish book fair, you will pique the interest of new readers, promote your book, and potentially gain a few new fans. Additionally, you can add the speaking appearance to your resume. Be sure to plan ahead because book fairs, speaking engagements and readings are all planned months in advance. For a complete list of book fairs and festivals visit book-marketing-expert.com
The Bottom Line: Reach out to the Jewish community and attend a book fair! You will be happy you did.
Book publicist Scott Lorenz is President of Westwind Communications, a public relations and marketing firm that has a special knack for working with authors to help them get all the publicity they deserve and more. Lorenz works with bestselling authors and self-published authors promoting all types of books, whether it's their first book or their 15th book. He's handled publicity for books by CEOs, CIA Officers, Navy SEALS, Homemakers, Fitness Gurus, Doctors, Lawyers and Adventurers. His clients have been featured by Good Morning America, FOX & Friends, CNN, ABC News, New York Times, Nightline, TIME, PBS, LA Times, USA Today, Washington Post, Woman's World, & Howard Stern to name a few.
Learn more about Westwind Communications' book marketing approach at https://www.WestwindBookMarketing.com or contact Lorenz at [email protected] or 734-667-2090 or fill out the form below. Follow Lorenz on Twitter @aBookPublicist. Want help titling a book? Check out Scott Lorenz's new award winning, bestselling book: Book Title Generator- A Proven System in Naming Your Book www.BookTitleGenerator.net.
Would you like help promoting your book?
If so, tell us a little about your book. What is the title? Do you have a publisher? What is the publish date? How many pages is your book? What is the cost? Do you have web site? What is your specific goal I.E., to make money, raise awareness, get the attention of an agent or publisher, sell the story to a movie or TV studio or something else?
Submit the form below with this information and we'll get back to you as soon as possible. Thank you!