My Favorite Book Marketing Books
As a book publicist and book marketing guy it's imperative for me to keep up with all of the great books and magazine articles being published on the topic of book marketing. I've read dozens and dozens of books on book marketing and usually have found a morsel or two of useful information in each one.  By the way, I've personally met or have spoken to many of these authors and can attest to the veracity of the material they present and their credentials to discuss these topics.
A Top Book Publicist's Favorite Book Marketing Books
R. Scott Lorenz "(Book Publicist)"
The list author says: "Top book publicist and book marketing guy Scott Lorenz says "It's imperative for me to keep up with all of the great books and magazine articles being published on the topic of book marketing."
"I've read dozens and dozens of books on book marketing and usually have found a morsel or two of useful information in each one. Here's a list of my favorites."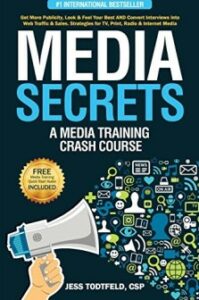 If You Really Want a Media Training Crash Course This Book is THE One
'Media Secrets' is the new Bible for media training. It contains every single thing one needs before doing a media interview from 'what to say' to 'what to wear' this book has it all. An important section is the discussion about Energy and bringing passion to an interview. Nobody wants to listen to a boring person talk about anything and if YOU are that boring person on radio or TV the consumer will simply change the station. Jess talks about how to put passion into your interview.
Media training is important because what good is landing an interview if you cannot get the listener/viewer to take action? If you take your interviews seriously then read this book. Besides learning tips and techniques you'll gain confidence which is an important element of any interview. This book is for anyone who is planning on getting media coverage including; Authors, C-Suite Execs, Politicians, and Sports Figures. As a publicist buy this book and give it to my clients to read. Nothing could be more useful.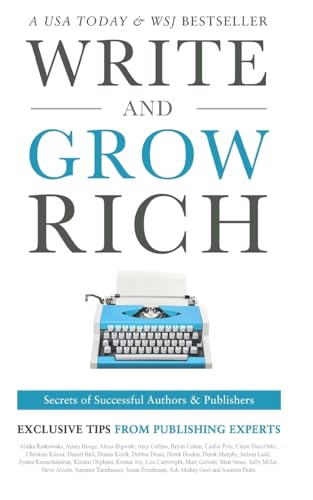 Write and Grow Rich: Secrets of Successful Authors and Publishers by Alinka Rutkowska (and several others)
What is your time worth? Authors can save time and money by making the right decisions about publishing and marketing by reading this book. One particularly interesting line was this:
"The biggest problem many authors and entrepreneurs have is that they have a one-legged-stool strategy for their growth — one income source; one traffic stream to grow their fan base. By all means, start with just one, but after you've mastered it, incorporate others that can bring balance if the winds change. Many streams create a river. It's the same with streams of income and traffic. Have more than one book. Have more than one series. Give away more than one free thing and in more than one place. But focus on the things and the places that produce the most results fastest. Vilfredo Pareto stated that 20 percent of your actions will result in 80 percent of the desired outcome. So focus on the 20 percent that helps you grow the fastest and master it."
Bingo. Here's another:
If I could give any piece of advice, it would be to jump into a multi-author project as quickly as possible because this is how you make those connections; especially, if you are the one creating the project. Then everyone who participates will likely work with you in the future as well.
All authors should read this book NOW. I highly recommend it.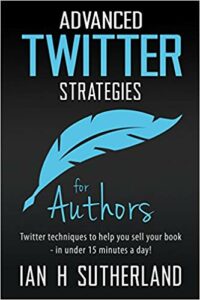 Advanced Twitter Strategies for Authors
This is the best book about Twitter for authors in the marketplace.
It offers a serious strategy and a step by step process to promote a book.
It also discusses the pros and cons of various software authors can utilize.
If you want to use Twitter to promote your book then this is THE book to buy.

Let's Get Visible: How To Get Noticed And Sell More Books (Let's Get Publishing) (Volume 2)
This a terrific book by a top author and expert.
David Gaughran has taken the time to analyze Amazon every which way possible and is sharing his insight and knowledge with all authors.
"Let's Get Visible" is a Must read for all authors."
1001 Powerful Pieces of Author Advice: Learn to plan, write, title, edit, format, cover, copyright, publicize, publish and sell your books and ebooks (Silver Sands Publishing Series)
"This is one of the most up to date books about self-publishing. It includes recent developments which affect authors. I particularly liked the section about naming a book. As a book publicist I see some horribly named books from time to time. Marcus offers some solid advice in this department. It's written in a serious but entertaining style with a little humor tossed in. I highly recommend it."
My Publishing Imprint: How to Create a Self-Publishing Book Imprint & ISBN Essentials by David Wogahn.
A must read for author PRIOR to publishing. The author is a frequent speaker and trainer, including engagements for the Independent Book Publishers Association, the Alliance of Independent Authors (ALLi), the Independent Writers of Southern California, and the Santa Barbara Writers Conference.  Start reading it for free: http://a.co/30VpxRJ

How to Blog a Book: Write, Publish, and Promote Your Work One Post at a Time
"Great Tips for Authors Who Do Their Own Book marketing Blogging a book is just one more thing on the list of tasks authors must do to get traction in the marketplace.
Authors can save a lot of time by using the techniques outlined.
Even if you are an experience blogger you'll find many items to advance your blogging skills. I highly recommend this book."

How I Sold 1 Million eBooks in 5 Months
"Author John Locke reveals how he sold 1 million ebooks. He discusses how step by step he created a fan base that keeps coming back to buy more books.
It is important, as an author, to always be aware of the changing field of social media and embrace it as a marketing tool for your book.
If you are an author buy this book! ItÂ's a must read in our Kindle ebook world."

Crush It with Kindle: Self-Publish Your Books on Kindle and Promote them to Bestseller Status
"Great tips and insight into the world of Kindle both on publishing and promotion side. Must read for authors."

Quit Your Day Job, A Guide for the Self Published Author
"Authors BUY THIS BOOK! You'll find hundreds of useful tips such as including the genre in the title along with its series number.
This helps when people are searching for a book to read in a specific genre and lets potential buyers know an author has a backlist.
This did not matter much pre-Amazon or pre-Google but it matters a lot in our ebook, Smashword, Kindle, Nook and iTunes world now."

Get Rich Click!: The Ultimate Guide to Making Money on the Internet
"I love "Get Rich Click" by Mark Ostrofsky.
I was planning on reading this book over a weekend but found myself going to my computer on practically every page to check out the items he was suggesting or recommending.
Authors will find this book very useful as they navigate the online world of book promotion."

The ABC of Sales: Lessons from a Superstar
"As a publicist I am an avid reader of books in my field including sales, marketing and social media. The ABC of Sales is packed with tips on how to discover clients and on how to close sales.
Dan Milstein is ranked as the number one loan officer in America and his company Gold Star Mortgage is an Inc. 500 firm.
Want to sell your book? Learn some tips from Dan."

Plug Your Book! Online Book Marketing for Authors, Book Publicity through Social Networking
"Weber discusses the awesome power of Amazon and its various nooks and crannies. He unveils various Amazon features that can help authors sell more books.
He states that Amazon 'reader reviews' are more important than ever — perhaps even rivaling a major newspaper review.
He says "Amazon is 'ground zero' for your online campaign."

How to Make Money with YouTube: Earn Cash, Market Yourself, Reach Your Customers, and Grow Your Business on the World's Most Popular Video-Sharing Site
"In the history of commerce the hottest marketing spots are the locations where the most people can be found, whether it's the town square, bazaar, train station, airport, MySpace, YouTube or Twitter. If you want the inside scoop on how to best utilize YouTube to sell books, CDs and other products or services then buy this book."

Amazon Top Seller Secrets: Insider Tips from Amazon's Most Successful Sellers
"Somehow, Brad and Debra Schepp got top Amazon sellers to reveal their secrets and inside tips on how to they succeed on Amazon.
This book would be extremely helpful for authors, publishers, inventors and others who want to sell products because it unlocks the full power of Amazon.
Whether you want to learn how to clear out a bookshelf or sell new books this book will lead the way."

PyroMarketing: The Four-Step Strategy to Ignite Customer Evangelists and Keep Them for Life
"Book marketing professionals know the secrets of success that drove the sales of Rick Warren's The Purpose Driven Life to a chart-busting best-seller and Mel Gibson's  "The Passion of the Christ" into a huge cinema phenom.
Sales of both blockbusters were driven by techniques outlined in a PyroMarketing by Greg Stielstra."

1001 Ways to Market Your Books: For Authors and Publishers, 6th Edition
"John Kremer describes more than 1000 ideas, tips, and suggestions for marketing books – all illustrated with real-life examples showing how other authors and publishers have marketed their books.
John, who is a walking encyclopedia about book marketing says, "Eighty percent of all books are sold by word of mouth, but it's publicity that primes the marketing pump."

The Web-Savvy Writer: Book Promotion with a High-Tech Twist
"This is an excellent "how to" book on the ins and outs of online book promotion and publicity focusing on the latest technology.
Author Patrice-Anne Rutledge is a bestselling author, successful technology journalist, and online book promotion expert who has utilized online marketing techniques extensively to promote her books and writing career."

The Book Publisher's Handbook: The Seven Keys to Publishing Success With Six Case Studies
"An excellent handbook which features seven keys that are important for independent publishers to understand and master. The importance of using a book marketing professional is stressed by author Eric Kampmann.
"Of course, there are many reasons why a book might become a success or even a bestseller, but we believe that the single best investment for you is an effective publicist."

Author! Screenwriter!: How to Succeed as a Writer in New York and Hollywood
"I always enjoy talking with Peter Miller, President, PMA Literary Film and Management, Inc.  He's one of the "big" agents in New York City.
Known as 'The Literary Lion,' he has successfully managed over 1,000 books and dozens of motion picture and television properties. From big names like Vincent Bugliosi to the "next big star" he's had eleven New York Times bestsellers and eleven films."

Beyond the Bookstore with CDROM
"Since half of all book sales come from outside bookstores it's important to target these markets.
Mass merchandisers such as Wal-Mart or Costco, gift shops, airport stores, home-shopping networks, book clubs, libraries, network-marketing companies, catalogs, associations,  government agencies, corporations, educational markets, retail stores and military branches all buy and sell books."

Author 101 Bestselling Book Publicity: The Insider's Guide to Promoting Your Book–and Yourself
"I rank Rick Frishman as one of the top publicists in the U.S. not to mention he's a nice guy too! His book, co-authored by Robyn Freedman Spizman and Mark Steisel, offers advice and insight about every stage of the publishing world.
Using testimonials and commentary, this book lets authors, agents, and publishers alike show you the things you should and shouldn't do in promoting your book."

Book Marketing from A to Z
"More than 300 authors, marketers and publicists, including yours-truly tell about their best promotional strategies with regards to book marketing.  YouÂ'll undoubtedly find several good ideas to implement.
While you're at it, check out Fran's Book Promotion Newsletter which for $7.50 a year is the best value in book marketing in the USA. Buy her book here: www.bookpromotionnewsletter.com"