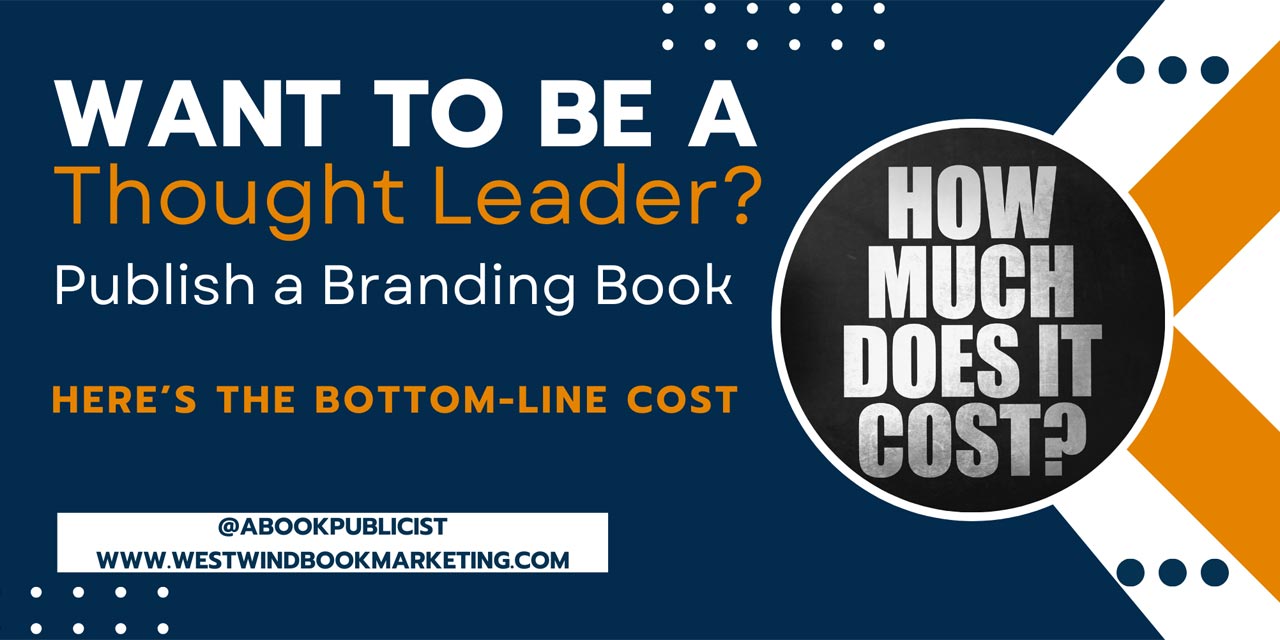 By: Scott Lorenz
Westwind Book Marketing
Have you been thinking about publishing a book for your personal brand or business? A strategized memoir or business book can elevate your authority and be a lead-generating machine for your speaking, consulting, or course offers. Today anyone can publish a book for next to nothing. But take it from a book marketer, just because it's published doesn't mean it'll elevate your business.
On average, a self-published book costs around $2,000 to publish. But most of those books sell less than 100 copies. Wouldn't you like your book to do better than that?
For the people I work with, investing in a professional book is a no-brainer. Speakers and business leaders see their books as a career investment, and it makes sense to consult the experts to get the best ROI.
"If you want to exponentially grow your opportunities as a consultant, speaker, investor, or leader, it's time to get published," says Marie Hasty. She's a concierge ghostwriter for clinicians and medical entrepreneurs, and she loves helping her clients elevate their careers with a professional book. "These projects aren't cheap. But investing in just one book can impact the rest of your life – your business, your personal brand, and your legacy."
How much can you expect to invest if you want to put together a professional book for your brand? Here's a breakdown of the cost of publishing a branding book today.
Publishing cost is different for every project. But understanding the rough cost for each step in the publishing process will help you make the best decision for your book (and your wallet). Let's break down the book-building process into four categories: pre-publication, publication, marketing, and distribution.
Pre-Publication Expenses
Professional book development lays the foundation for an impactful branding book. As a book publicist and publishing expert, I can't stress enough the importance of investing in the following areas to ensure your book's quality and resonance with your audience.
1. Book Concept and Development
The first step in publishing your branding book is refining your concept and developing a well-structured outline. If you're working with a ghostwriter or book consultant, they'll help you with this. You'll also need to get clear on your goals for the book, your audience, and the key stories you want to tell during this stage. Here's a list of ghostwriters I like to work with: Ghostwriters
Ghostwriter: $20,000-$100,000+
Book Coach or Consultant: $1,000-$3,000 per month
2. Professional Editing and Proofreading
Editing is an indispensable aspect of publishing, as it ensures that your writing is polished, error-free, and ready for public consumption. Investing in professional editing and proofreading services will significantly improve the quality and credibility of your branding book. Skilled editors will help refine your content, improve flow, and ensure consistency for your readers.
Depending on the publishing route you choose, editing may be included in your publishing package.
Developmental Editing: $1,500-$5,000 per project
Line/Copy Editing: $1,500-$3,000 per project
Proofreading: $800-$1,000 per project
3. Book Cover Design
Don't underestimate the power of a visually striking book cover. Despite what we've been told,  your readers are judging your book by its cover. A good book cover can help sell a book – a bad cover can kill a book. Enlisting professional designers to create a compelling book cover that aligns with your branding visuals is well worth the investment. Here's a list of Book Cover Designers I've compiled.
Book Cover Design: $200-$2,000
Publication Costs
The cost of publishing your book will depend on the publishing route you choose. Today, there are three main ways that authors are published: Traditional, hybrid, and self-publishing. For many authors, traditional publishing is not an option. But hybrid and self-publishing routes are rapidly gaining traction for authors who are able to invest in their book's development and printing. Let's compare the costs of each publishing method.
1. Traditional Publishing
Traditional publishing through big firms has significant advantages in that it won't cost you anything to have your book edited, designed, and printed. Some authors even get advances on their book, although these aren't what they used to be (think: less than $5,000).
However, there are still costs associated with traditional publishing. You'll need to work with a literary agent, put together a book proposal, do most or all of the marketing yourself, and likely foot the bill on travel for a book tour. Check out my article with interviews from 18 literary agents about what they want from authors. What Literary Agents Want
Literary Agent: 10-15% of advances and royalties
Ghostwritten Book Proposal: $5,000-$15,000
Book Tour Expenses: $3,000-$20,000+
2. Self-Publishing
Self-Publishing has come a long way in the last decade, and several big authors have turned to this method as a way to keep more royalties and maintain creative control. Most importantly by self-publishing you can bring your book onto the market much faster by months and months. The downside is that this method is more work for the author, and you may need to coordinate hiring editors, designers, etc. to produce a professional finished product. Assisted self-publishing firms can help you save time and create a more refined book, but they're not cheap, and you'll need to vet your team before signing a publishing contract.
DIY Self-Publishing Expenses: $1,000-$2,000
Assisted Self-Publishing: $8,000-$25,000+
3. Hybrid Publishing
Hybrid publishing brings a mix of professional editorial support with the speed and creative control of self-publishing. Hybrid publishers share the publishing cost with their authors and provide in-house editing, design, and production. These firms help with some book marketing since their profits come partially from book sales. But keep in mind that hybrid publishers are not vanity presses, and many firms only select about 10% of the manuscripts they see in a year.
Hybrid Publishing: $6,000-$30,000
The publishing industry is always changing, and even experienced authors may change their publishing route depending on the goals for their book. Jane Friedman, an expert on book publishing and author consultant, summarizes the publishing process well:
"There is no one path or service that's right for everyone all the time; you should take time to understand the landscape and make a decision based on long-term career goals, as well as the unique qualities of your work. Your choice should also be guided by your own personality (are you an entrepreneurial sort?) and experience as an author (do you have the slightest idea what you're doing?)."
No matter what publishing route you choose, most book marketing efforts will likely fall on you, the author. So, let's talk about what you might expect to pay for book PR, book promotions, and marketing a successful book launch.
Book Marketing
Investing in expert book marketing support can be the difference between a book that makes you a household name and a book that collects dust on your shelf. Book marketing costs money but obscurity costs more. Today, there are more avenues for marketing your book than ever. Here are the book marketing essentials to start with:
1. Hire a Book Publicist.
Have you ever wondered how guests on talk shows get those coveted spots? They're likely working with a publicist or PR firm. Working with an experienced book publicist (like me) elevates your authority, gaining you media exposure with the audiences who need your book. A book publicist can also help you schedule appointments on your book tour, find book fairs and festivals, and connect you with journalists for interviews.
Book Publicist Cost: $5500-$7500 per month
2. Build Your Author Platform.
Where do you want people to go after they see you on TV, read your book, or watch your speaker presentation? Maintaining an author website and blog helps create more touchpoints for your audience to learn about you and your expertise. And this is a great place to recruit readers for your newsletter or course. Jeff Jacobs of the prestigious web design firm Marketing Success, says "I love working with authors because a website really elevates their book success. We've built dozens of author sites, and I recommend that every author keep a website."
DIY Website Cost: $16-$50 per month
Professional Website Cost: $4,000-9,000
3. Social Media Promotion.
If you don't have one already, building a following on social media can get more eyes on your brand and help you connect with more readers.
I know it's difficult to be on all platforms, but you should be on at least one. If you have a business book and you are seeking business clients, then build out your LinkedIn page.
If you have a fiction book, then go for Facebook and Instagram.
If you have a younger audience then check out TikTok, and specifically BookTok, which has elevated dozens of authors in the last several years. Jane Friedman helped her client get to half a million followers on the platform, which led to a traditional publishing deal. "There are many approaches to getting your book out there to readers," says Jane. If you're wanting to build a face-forward platform, TikTok could be a great place to start.
You'll need to think about who your audience is and where they live on the internet to best invest your time. Personally, I love Twitter or X as it's being rebranded, and have 49K followers at @aBookPublicist.  I promote my client's books and my own services as well as Tweet about publishing, writing, and info useful to authors and publishers. I send out articles like this one to my followers and some are really happy to see this stuff!
DIY Social Media Cost: Nothing
Professional Social Media Management Cost: $200-5,000 per month
Social Media Ads Cost: $15-$200 per day
Distribution Costs
How and where readers access your book comes down to distribution. Most branding books are physically printed, and many authors opt for an e-book as well. Audiobooks are less common unless you're working with a traditional publisher who will foot the bill. These are the main ways authors distribute their books today:
1. Online Retailers:
Amazon is the most common online retailer for books today, and a great option for self-publishing. Their print-on-demand option allows you to avoid the cost of large print runs. POD has a higher cost per book, but there's much less risk. This costs nothing, but you won't find your book in bookstores with this method.
Amazon Print-On-Demand Cost: $0
2. Brick-And-Mortar Stores:
If you're working with a hybrid or traditional publisher, they'll likely handle distributing your book to stores. Most publishers work with Ingram Publishing, which gets your book out to most bookstores nationwide. Retailers then order your book, and Ingram prints and ships it to them.
Book Distribution Cost: 10-26% of net sales
3. Do a Goodreads eBook Giveaway:
It may sound counterintuitive, but giving away your book can be a great marketing strategy. Sign up in your author profile on Goodreads and they do all the work. They'll promote it to their audience and charge a nominal fee of $115. They'll send out the eBooks to the winners of the contest. Some authors schedule several per year. Why do this? It puts your book into the hands of people who may read it and review it on Amazon or Goodreads. If you have a physical book, you can do the same thing but shipping the book is up to you. My recommendation is do the eBook.
The Cost and Investment of Publishing: Key Takeaways
There's a reason why want to write a book but only a small fraction does it. Putting a successful book together takes time, money, and energy. But for the business leaders who commit to the process, there are big payoffs on the other side of being a "published author". When you consult the experts in writing support, publishing, marketing, and distribution, you ensure the best results possible.
The Bottom Line: Your book will not write, publish and promote itself. If you want success get professionals to help you along the way.
Book publicist Scott Lorenz is President of Westwind Book Marketing, a public relations and marketing firm that has a special knack for working with authors to help them get all the publicity they deserve and more. Lorenz works with bestselling authors and self-published authors promoting all types of books, whether it's their first book or their 15th book. He's handled publicity for books by CEOs, CIA Officers, Navy SEALS, Homemakers, Fitness Gurus, Doctors, Lawyers and Adventurers. His clients have been featured by Good Morning America, FOX & Friends, CNN, ABC News, New York Times, Nightline, TIME, PBS, LA Times, USA Today, Washington Post, Woman's World, & Howard Stern to name a few.
Learn more about Westwind Book Marketing approach at https://www.WestwindBookMarketing.com or contact Lorenz at [email protected] or 734-667-2090 or fill out the form below. Follow Lorenz on Twitter @aBookPublicist. Want help titling a book? Check out Scott Lorenz's new award winning, bestselling book: Book Title Generator- A Proven System in Naming Your Book www.BookTitleGenerator.net.