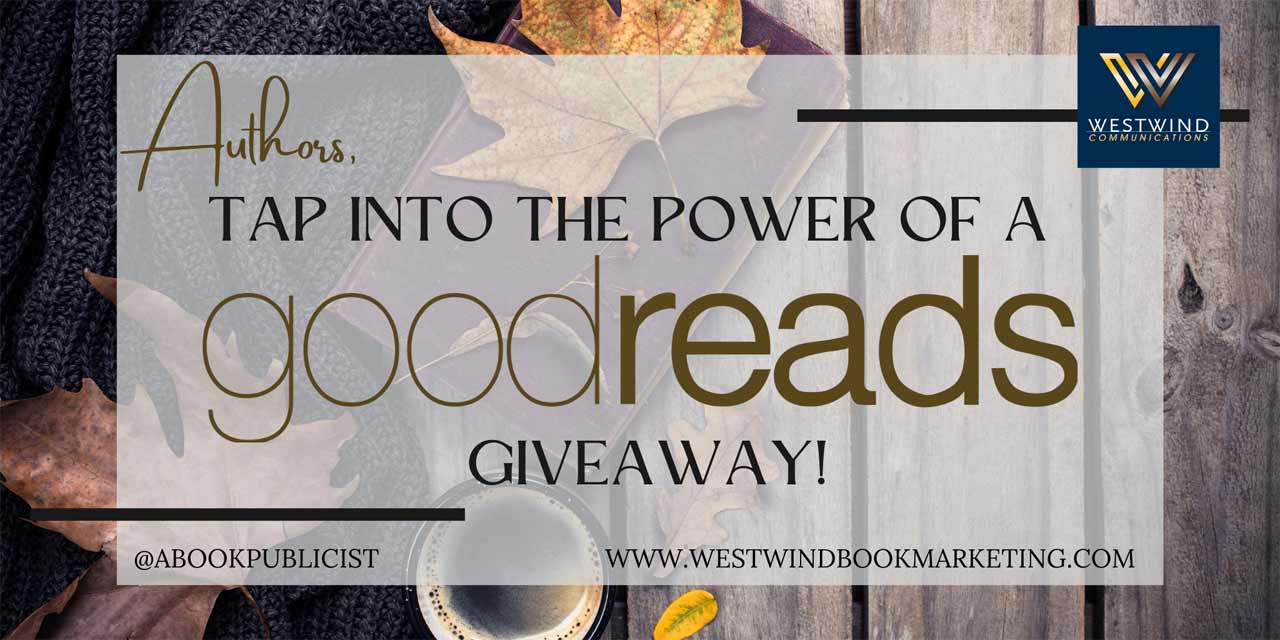 By Scott Lorenz
Westwind Communications
As a book publicist, I am always on the lookout for effective yet inexpensive ways to reach book buyers. Goodreads is one option. Owned by Amazon, With Goodreads, you can put your book into as many hands as possible, initiate word of mouth promotion and hopefully, succeed with flying colors. If you're a published author, rest assured you already have a profile on Goodreads. Here's how you can take full advantage of the platform:
1. Run a Goodreads Giveaway
Through a Goodreads Giveaway, you can promote yourself and your book to the ideal audience. A Goodreads Giveaway is exactly what it sounds like: You give away copies of your books to interested readers. To set up a Goodreads Giveaway, follow these steps.
Set Up Your Author Profile: First, create a Goodreads account, find the book(s) you've written, click on your name from the book's page, and "claim" your author profile. After you receive an email confirmation, you can customize your profile.
Choose Your Book Format: Scroll down to "Your Giveaways" on your author dashboard and click on "Listing a Giveaway." From there, decide whether you want to give away print or Kindle versions of your book.
Choose a Package: Next, select the Standard Package ($119) or Premium Package ($599). "Do the $119 eBook Goodreads giveaway," says Alessandra Torre, a New York Times Bestselling Author and co-founder of Inkers Con dedicated to helping authors.
Choose Your Timeframe: Your giveaway can last anywhere between 1 week and 30 days. I recommend three weeks because it's long enough for people to notice your giveaway, but not so long that they'll forget about it.
Choose the Number of Books: I recommend giving away 100 Kindle books.
Spread the Word: While Goodreads readers will hopefully find your giveaway organically, it can't hurt to promote it on your social media outlets and ask your network to share.
You can see a list of Goodreads Giveaways here.  If you'd like to hear a pro/con on a Goodreads Giveaway, then check out what YA Fantasy author Bethany Atazadeh has to say.
2. Participate in an Online Q&A Session
Ask the Author is Goodread's Q&A platform on Goodreads that allows readers to submit questions to Goodreads Authors whenever they'd like. Until you decide to answer a question, it won't be visible to the public. This gives you complete control over when you respond to reader questions and how you respond to them.
3. Blog, Blog, and Blog
Goodreads gives you the opportunity to blog about anything and everything.  If you have a blog, you can set it up, so Goodreads picks it up automatically via a RSS feed. You can write about your writing career, share reviews of your books, and position yourself as an expert. The sky's the limit so get creative and think about what your reader base would like!
4. Publicize Upcoming Events
As an author you know how important it is to get out and about. If you have upcoming book signings and speaking engagements, you owe it to yourself to advertise them through Goodreads events.
5. Share Excerpts of Upcoming Publications
Excerpts can get your audience excited about a book you have in the works. Don't be afraid to share them on Goodreads via your author blog.
6. Post Videos
Readers are more likely to remember your messages when you deliver them by video. If you can, create and publish unique videos on Goodreads about your books, charitable contributions, upcoming events, and more.
7. Create a Listopia List
Listopia is a way for people to find new books to read. Since most readers stick to a genre when they finish one book, they go to another in the same genre. I.E. Romance readers are not buying a business book after they finish their last romance book, they usually buy inside the same genre. Listopia allows readers to discover books that are similar to the ones they like or in the same genre because their book is listed as being similar. The concept is "If you like this book you'll probably like that book."
8. Share, Share, and Share
Last but not least, share your list of favorite books and recent reads with your fans! This tip is simple but very effective and important.
The Bottom Line: If you're in search of a fresh yet effective way to promote your work as an author, you owe it to yourself to explore Goodreads.
Book publicist Scott Lorenz is President of Westwind Book Marketing, a public relations and marketing firm that has a special knack for working with authors to help them get all the publicity they deserve and more. Lorenz works with bestselling authors and self-published authors promoting all types of books, whether it's their first book or their 15th book. He's handled publicity for books by CEOs, CIA Officers, Navy SEALS, Homemakers, Fitness Gurus, Doctors, Lawyers and Adventurers. His clients have been featured by Good Morning America, FOX & Friends, CNN, ABC News, New York Times, Nightline, TIME, PBS, LA Times, USA Today, Washington Post, Woman's World, & Howard Stern to name a few.
Learn more about Westwind Book Marketing approach at https://www.WestwindBookMarketing.com or contact Lorenz at [email protected] or 734-667-2090 or fill out the form below. Follow Lorenz on Twitter @aBookPublicist. Want help titling a book? Check out Scott Lorenz's new award winning, bestselling book: Book Title Generator- A Proven System in Naming Your Book www.BookTitleGenerator.net.