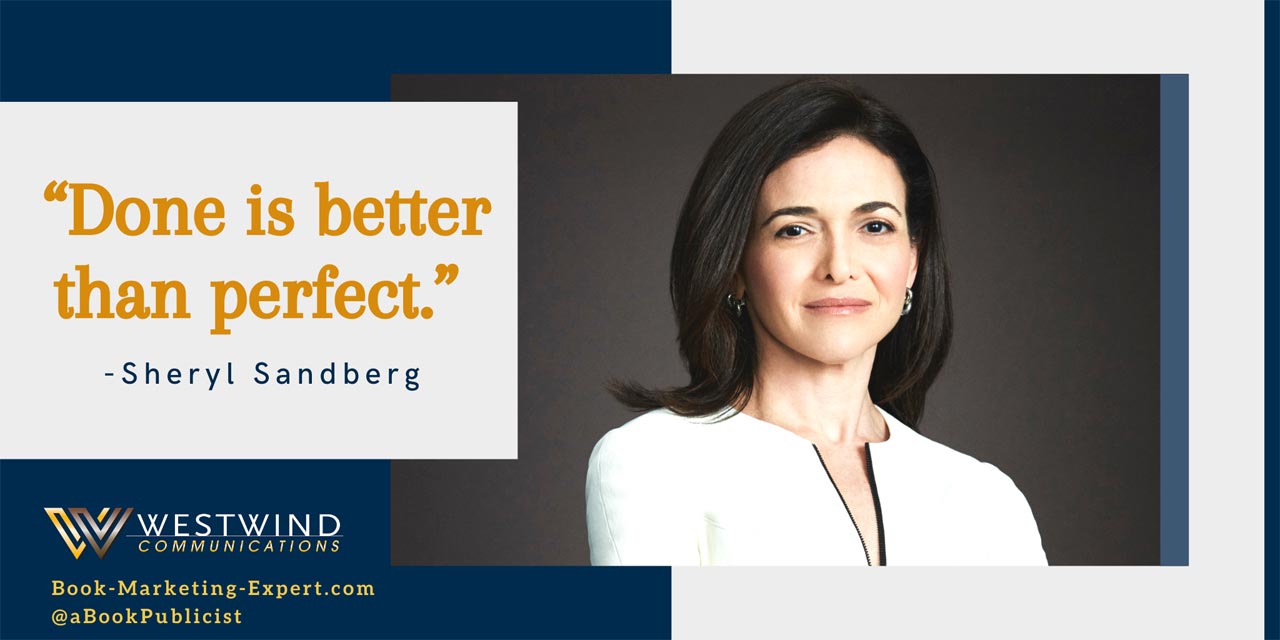 By: Scott Lorenz
Westwind Book Marketing
It's happened again. A female author client of mine decided that she did not want to conduct interviews with podcasters, radio or TV show hosts. Why? Because she thought her southern accent was too strong.
I disagreed emphatically… to no avail. I thought her accent was fine. She was easy to understand, and it added authenticity to the interview. I even offered more media training to help give her confidence. "Sorry, not going to do it."
Now, had she or any other client had a strong accent making an interview impossible to understand, then we would most definitely focus on other methods to promote the book. We are not here to make a fool of anyone.
But having self-critical author is not new.
In another instance, a prospective female author, called me to discuss promoting her book. But she warned me that she was shy about getting publicity, and that she was not sure about using the incredible endorsement she got from a bestselling author of 30 million books – Jack Canfield. I was stunned.
I honestly have never come across a male author who said, "I am not worthy of the PR you are about to get me!" They may be out there, but I've never seen them.
I have, however, spoken to a number of women who have implied that, for a variety of reasons, they are not worthy of the attention, and I am here to tell you to STOP IT!
I explained to my prospective client that before I can even begin to help her, she needs to stop pulling punches, and to stop selling herself short, and recognize her self-worth.
Often, the biggest barrier between some women and success is themselves. This concept is discussed in the multi-year-best-selling book Lean In, written by Sheryl Sandberg, the former Chief Operating Officer of Facebook. Sandberg says that women are conditioned by society to blend in, to stay out of the limelight, and even to downplay their power or success. In the book, she cites a meeting with Tim Geithner, who was at the time the Secretary of the Treasury:
"Secretary Geithner's team, all women, took their food last and sat in chairs off to the side of the room. … [They] had every right to be at this meeting, but because of their seating choice, they seemed like spectators rather than participants."
It is no secret that some women have been taught to hold themselves back for cultural, religious and other reasons. This is archaic and has no place in our world today nor should it.
The Bottom Line: Women, put your foot on the accelerator and don't let it off! Believe in your book, enter book award contests, listen to your PR professional, do the interviews, and believe that you are worthy of winning! Damn the torpedoes, full steam ahead!
Book publicist Scott Lorenz is President of Westwind Book Marketing, a public relations and marketing firm that has a special knack for working with authors to help them get all the publicity they deserve and more. Lorenz works with bestselling authors and self-published authors promoting all types of books, whether it's their first book or their 15th book. He's handled publicity for books by CEOs, CIA Officers, Navy SEALS, Homemakers, Fitness Gurus, Doctors, Lawyers and Adventurers. His clients have been featured by Good Morning America, FOX & Friends, CNN, ABC News, New York Times, Nightline, TIME, PBS, LA Times, USA Today, Washington Post, Woman's World, & Howard Stern to name a few.
Learn more about Westwind Book Marketing approach at https://www.WestwindBookMarketing.com or contact Lorenz at [email protected] or 734-667-2090 or fill out the form below. Follow Lorenz on Twitter @aBookPublicist. Want help titling a book? Check out Scott Lorenz's new award winning, bestselling book: Book Title Generator- A Proven System in Naming Your Book www.BookTitleGenerator.net.