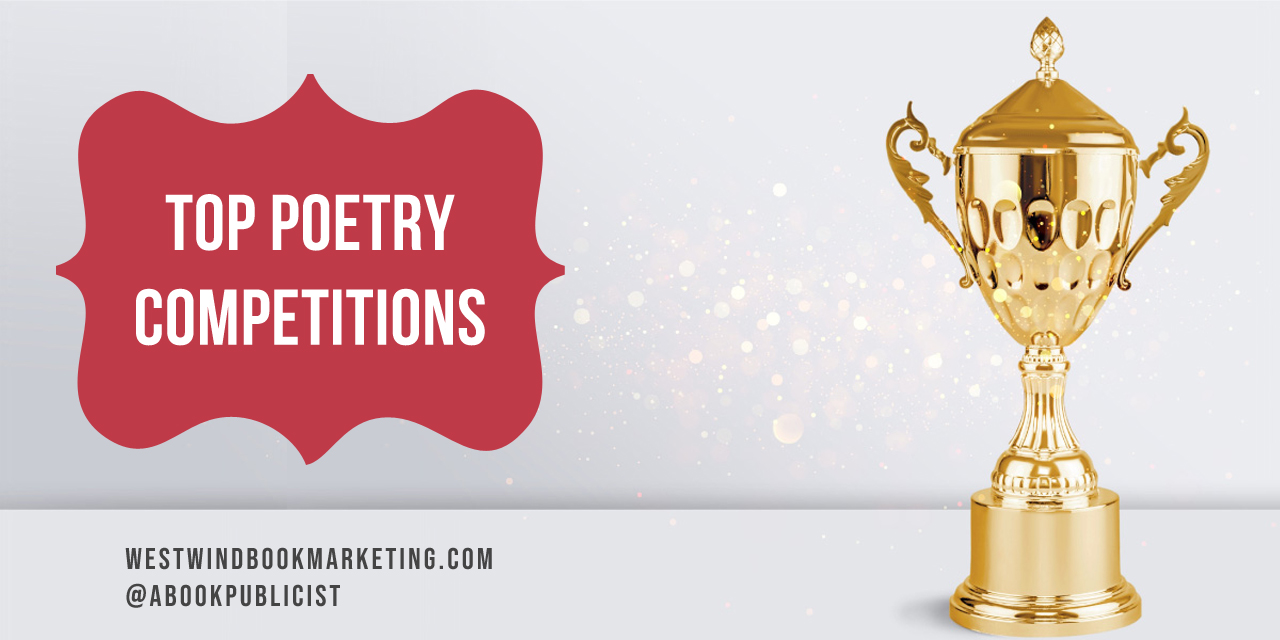 By Scott Lorenz
Westwind Communications
Are you a poet and nobody knows it?  Get busy and enter poetry competitions and tell the world about your poetry!
One of the best ways to gain exposure for your poetry is to enter your work into various poetry competitions around the United States. The recognition gained for your prose could help launch your career or give you the encouragement to propel you forward to greater heights. Sometimes that third party endorsement of your work is well worth your time.
I've researched and compiled this list of poetry contests that offer recognition and in some cases cash prizes. Good luck!
1. Agha Shahid Ali Prize in Poetry, Salt Lake City, UT. Honoring the memory of a celebrated poet and a beloved teacher, the Agha Shahid Ali Prize in Poetry is awarded annually and is sponsored by The University of Utah Press and The University of Utah Department of English. $1,000 Cash Prize and Publication from the Press; $500 and reading in The University of Utah's Guest Writers Series from The University of Utah Department of English. https://www.uofupress.com/ali-poetry-prize.php
2. Agnes Lynch Starrett Poetry Prize, Pittsburgh, PA. Established in 1981, the Agnes Lynch Starrett Poetry Prize is administered by the University of Pittsburgh Press. Named in honor of Agnes Lynch Starrett, the Press's first director, the prize is awarded for a first full-length book of poems. The prize carries a cash award of $5,000 and publication by the University of Pittsburgh Press as part of the Pitt Poetry Series. The series is edited by Ed Ochester, who also serves as final judge in the Starrett competition. https://upittpress.org/prize/agnes-lynch-starrett-poetry-prize/
3. Aliki Perroti and Seth Frank Most Promising Young Poet Award, New York, NY. Established in 2013, the Aliki Perroti and Seth Frank Most Promising Young Poet Award recognizes a student poet twenty-three years old or younger, with an annual cash prize of $1,000. https://poets.org/academy-american-poets/prizes/aliki-perroti-and-seth-frank-most-promising-young-poet-award
4. Amy Lowell Traveling Poet Scholarship, Boston, MA. The American poet Amy Lowell died in 1925. Her will established an annual scholarship to support travel abroad for gifted American-born poets. The scholarship is administered by the Trustees under her will at the law firm of Choate, Hall & Stewart in Boston, Massachusetts. There is no age requirement, publication requirement, or education requirement. Poets must be of American birth. https://www.amylowell.org/
5. Benjamin Saltman Poetry Award, Pasadena, CA. Established in 1998, in honor of the poet Benjamin Saltman (1927-1999), this award is for a previously unpublished original collection of poetry. Awarded collection is selected through an annual competition which is open to all poets. https://redhen.org/awards/benjamin-saltman-poetry-award/
6. Berkshire Prize for a First or Second Book of Poetry, North Adams, MA. The Berkshire Prize for a First or Second Book of Poetry is open to anyone writing in the English language, whether living in the United States or abroad. Translations are not eligible for this prize, nor are previously self-published books. https://www.tupelopress.org/berkshire-prize/
7. Colorado Prize for Poetry, Fort Collins, CO. The Colorado Prize for Poetry is an international literary contest started in 1995. Since the contest began, over 5,000 book-length poetry manuscripts have been entered. Each year's prizewinner receives a $2,000 honorarium and publication of his or her book by the Center for Literary Publishing. https://coloradoreview.colostate.edu/colorado-prize-for-poetry/
8. Cowles Poetry Book Prize, Cape Girardeau, MO. Individual poems in the manuscript may have been published previously in a chapbook, magazines, journals or anthologies, but the work as a whole must be unpublished. Translations and previously self-published books are not eligible. Open to any poet writing in English, age 18 or older, regardless of publication history. Send 48-100 pages of poetry–any style or theme–with a table of contents and an acknowledgements page for any previously published poems. The page count doesn't include the table of contents or acknowledgements. No online submissions. http://www.semopress.com/events/cowles-prize/
9. Elixir Press Annual Poetry Awards, Denver, CO. Elixir Press is sponsoring a poetry contest open to all poets writing in English. There will be a Judge's Prize of $2,000 and an Editors' Prize of $1000. Both winning manuscripts will be published by Elixir Press. All entries will be considered for publication. An outside judge, to be announced later, will make the final decision for the first prize. The editors will make the final decision for the second prize. http://elixirpress.com/guidelines/annual-poetry-awards
10. Fugue Annual Writing Contest, Moscow, ID. Fugue's Annual Writing Contest accepts submissions of both poetry and prose (fiction and nonfiction). Multiple submissions are accepted as long as separate fees are paid. For poetry submissions, please send between 1-3 poems. For prose submissions, please send no more than one short story or one essay. https://fuguejournal.com/general-submissions
11. Iowa Poetry Prize, Iowa City, IA. The Iowa Poetry Prize, open to new as well as established poets, is awarded for a book-length collection of poems written originally in English. Previous winners, current University of Iowa students, and current and former University of Iowa Press employees are not eligible. https://uipress.uiowa.edu/resources/prospective-authors/iowa-poetry-prize
12. Irish Writers Lost Gatos Writing Contests, Los Gatos, CA. Writing contests open till 21 September. Short Stories $10 per story, $1000 prize. Poetry $10 per poem $600 prize. Youth Poetry (under 18's) $8 per poem, $400 Gift Card Prize. Open to all, unpublished work only in English. https://irishwriterslosgatos.submittable.com/submit
13. Jake Adam York Prize, Denver, CO. The Jake Adam York Prize is a collaboration between Copper Nickel & Milkweed Editions. It is open to all poets in the US who have published no more than one full-length poetry collection. The entries are due October 15. The entry fee is $25 (which includes a year's subscription to Copper Nickel). The prize is $2,000 plus publication by Milkweed Editions. http://copper-nickel.org/bookprize/
14. May Sarton New Hampshire Poetry Prize, Peterborough, NH. The May Sarton New Hampshire Poetry Prize is named for May Sarton, the renowned novelist, memoirist, poet, and feminist (1912-1995). The winner receives $1000, book publication, and 100 copies of the published book, as well as distribution with our other spring titles through our partner UPNE (University Press of New England). https://bauhanpublishing.com/contests/
15. The Cowles Poetry Book Prize, Cape Girardeau, MO. Prize: $2,000 and 30 copies for the author, publication and distribution of a full-length poetry manuscript with a full-color perfect-bound cover. Manuscripts submitted to the contest will be read and judged anonymously. http://www.semopress.com/events/cowles-prize/
16. Miller Williams Poetry Prize, Fayetteville, AR. A prize of $5,000 and publication by University of Arkansas Press is given annually for a poetry collection. Submit a manuscript of 60 to 90 pages with a $28 entry fee by September 30. Visit the website for complete guidelines. https://www.uapress.com/millerwilliamspoetryseries/
17. Raiziss/de Palchi Translation Awards, New York, NY. The Raiziss/de Palchi Translation Awards recognize outstanding translations into English of modern Italian poetry through a $10,000 book prize and a $25,000 fellowship, given in alternating years. To apply, a translator must submit four copies of a proposal describing the work-in-progress, the applicant's credentials, and how the fellowship money will be used. https://poets.org/academy-american-poets/prizes/raizissde-palchi-translation-awards
18. Rhina Espaillat Poetry Award, Walden, NY. This award honors the achievements of the great Dominican-American poet, translator, and public school teacher Rhina Polonia Espaillat. The Rhina Espaillat Poetry Award will be awarded for an original poem of not more than fifty lines that reflects her lyricism, empathy, and ability to find grace in everyday events of life. https://www.plough.com/en/contact-us/rhina-espaillat-poetry-award
19. Spirit First Poetry Contest, Langley Park, MD. Poetry submissions may be of any length and any style but must have a theme of Meditation, Mindfulness, Silence, Stillness, or Solitude (we are referring to peaceful solitude – not loneliness). Poems may reflect any discipline, any faith, or none. Poems must be previously unpublished. https://www.spiritfirst.org/
20. The Center for Book Arts Poetry Chapbook Competition, New York, NY. The Center's Poetry Chapbook Competition has been going strong since 1996; past winners have included Ailish Hopper, Jeffrey Skinner, L.B.Thompson, and Rachel Zucker. Poets! Submit your work for this year's contest; the deadline every year is December 1; current guidelines are up on our site here. https://centerforbookarts.org/calendar/opportunity/2023-poetry-chapbook-contest
21. The Washington Prize, Washington, DC. The Washington Prize, awarded annually to a living American or Canadian poet, is $1,500 and book publication for a manuscript of original poetry in English. Poets at any stage in their career may submit a manuscript of 48 to 80 pages between January 15 and March 15. $25 entry fee. The winner is selected in summer and publication is planned for early the following year. https://wordworksbooks.org/submissions/the-washington-prize/
22. Wergle Flomp Humor Poetry Contest, Northampton, MA. Now in its 14th year, this contest seeks today's best humor poems. No fee to enter. Submit published or unpublished work. $2,000 in prizes. https://winningwriters.com/our-contests/wergle-flomp-humor-poetry-contest-free
The Bottom Line: If you are poet and nobody knows it then it's time to get busy and enter poetry competitions. Do it TODAY!
Book publicist Scott Lorenz is President of Westwind Communications, a public relations and marketing firm that has a special knack for working with authors to help them get all the publicity they deserve and more. Lorenz works with bestselling authors and self-published authors promoting all types of books, whether it's their first book or their 15th book. He's handled publicity for books by CEOs, CIA Officers, Navy SEALS, Homemakers, Fitness Gurus, Doctors, Lawyers and Adventurers.
His clients have been featured by Good Morning America, FOX & Friends, CNN, ABC News, New York Times, Nightline, TIME, PBS, LA Times, USA Today, Washington Post, Woman's World, & Howard Stern to name a few.
Learn more about Westwind Communications' book marketing approach at https://www.WestwindBookMarketing.com or contact Lorenz at [email protected] or 734-667-2090 or fill out the form below. Follow Lorenz on Twitter @aBookPublicist. Want help titling a book? Check out Scott Lorenz's new award winning, bestselling book: Book Title Generator- A Proven System in Naming Your Book www.BookTitleGenerator.net.
Would you like help promoting your book?
If so, tell us a little about your book. What is the title? Do you have a publisher? What is the publish date? How many pages is your book? What is the cost? Do you have web site? What is your specific goal I.E., to make money, raise awareness, get the attention of an agent or publisher, sell the story to a movie or TV studio or something else? Submit the form below with this information and we'll get back to you as soon as possible. Thank you!