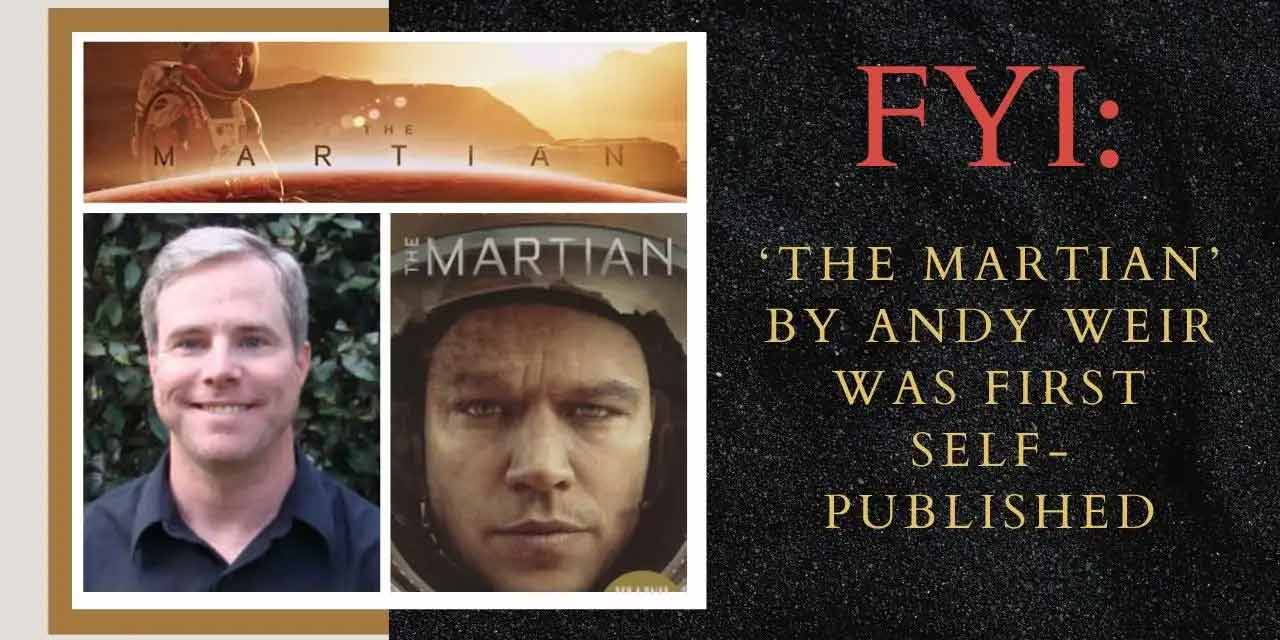 By Scott Lorenz
Westwind Communications Book Marketing
Did you know that Andy Weir author of The Martian first published a series of blog posts, then an ebook? Yes, it's true. Before The Martian became a Hollywood legend it had humble beginnings… on a blog. Here's the backstory of this self-published author.
Author Andy Weir wrote The Martian in 2011 and it's now one of the most popular movies of the day. It is a story about fearless astronaut Mark Watney, played by actor Matt Damon, who overcomes several challenges after being left behind by his team on Mars.
How did Weir get the inspiration to write a bestselling novel and Sci-Fi blockbuster extravaganza? With rejection of course…
"I was sitting around thinking about how to do a human mission to Mars, not for a story but just for the heck of it. I started thinking about how I would do it and all the things that could go wrong, and I realized it would make a great story. So, I made up a protagonist and subjected him to all of it," said Weir in an interview with SmithsonianMag.com.
"I had tried before to write novels and submitted them to agents, but no one was interested," said Weir.
Weir grew up with parents who were electronics engineer and a particle physicist and became interested in science, technology, and of course Sci-Fi classics including Isaac Asimov, Arthur C. Clark, Robert Heinlein, and let's not forget Dr. Who, according to an article by Micah White on Biography.com.
Weir was a computer programmer at AOL, but when they merged with Netscape he was let go and with his severance package went on to fulfill a dream of his to write fiction.
In 2009 Weir began writing The Martian as a hobby and posted chapters on his website for interested readers. He gained a few thousand followers, many of whom were scientists that provided technical accuracy of the story. From there, The Martian was completed and posted on his website as a free e-book.
"If it wasn't for the Internet, the story wouldn't have been possible at all because I wouldn't have had any medium to tell stories. I wasn't even trying to break into the industry anymore, I was doing it as a labor of love," said Weir in his SmithsonianMag.com interview.
"Chemists actually pointed out some problems in early drafts," said Weir in an interview with Businessinsider.com. With that he was able to go back and correct some of the chemistry that was crucial for Watney's survival.
This self-publishing author followed his true passion without any additional help from an agent or marketing team and continued to write even though he received many rejection letters.
"I was afraid it was going to read like a Wikipedia article if I didn't make it really interesting," said Weir during a discussion of The Martian at the recent Human MARS Summit in Washington D.C.
In September 2012, the book became available on Amazon for $0.99, selling 35,000 copies and moving it up to the top of Amazon's Sci-Fi Bestseller List. After topping the Bestseller List on Amazon, an agent contacted Weir and he was soon represented by Random House for a book deal. On top of that Fox contacted him for the film rights of his novel.
Within days of each other both deals closed, and the computer programmer had gone from a self-published author to published author (selling nearly 1 million copies) to the creator of Hollywood's 2015 blockbuster.
Even NASA loved the publicity from The Martian with the following tweets:
NASA astronaut and #TheMartian movie actress hope to inspire the next generation of astronauts on our #journeytomars
Watching #TheMartian? See how our Deep Space Habitat compares to one in the film: go.nasa.gov/1iUaBKi
"It was such a sudden launch into the big leagues that I literally had a difficult time believing it," said Weir in an interview on his site. "I was actually warned it could all be an elaborate scam. So, I guess that was my first reaction: 'Is this really happening?'"
Persistence is key in the self-publishing book business. Almost every writer goes through the struggle, some having an agent, some not. The idea behind The Martian is that similar to Mark Watney, Andy Weir did the best he could with the limited resources that he had, no agent, no marketing team and no publisher. He, like Watney, took the creative spark he harnessed and prevailed in his struggle to find success.
The Bottom Line:  There's a wealth of brilliant self-published authors striving to succeed. For some authors big success awaits. The difference is often getting just a little exposure. If the New York Times and other publications who routinely dismiss self-published authors would take a look at the fine work created by these talented people, The Martian will indeed leave an indelible imprint on the self-publishing landscape. To the NY Times: See what you are missing!
Book publicist Scott Lorenz is President of Westwind Communications, a public relations and marketing firm that has a special knack for working with authors to help them get all the publicity they deserve and more. Lorenz works with bestselling authors and self-published authors promoting all types of books, whether it's their first book or their 15th book. He's handled publicity for books by CEOs, CIA Officers, Navy SEALS, Homemakers, Fitness Gurus, Doctors, Lawyers and Adventurers. His clients have been featured by Good Morning America, FOX & Friends, CNN, ABC News, New York Times, Nightline, TIME, PBS, LA Times, USA Today, Washington Post, Woman's World, & Howard Stern to name a few.
Learn more about Westwind Communications' book marketing approach at https://www.WestwindBookMarketing.com or contact Lorenz at [email protected] or 734-667-2090 or fill out the form below. Follow Lorenz on Twitter @aBookPublicist. Want help titling a book? Check out Scott Lorenz's new award winning, bestselling book: Book Title Generator- A Proven System in Naming Your Book www.BookTitleGenerator.net.
Would you like help promoting your book?
If so, tell us a little about your book. What is the title? Do you have a publisher? What is the publish date? How many pages is your book? What is the cost? Do you have web site? What is your specific goal I.E., to make money, raise awareness, get the attention of an agent or publisher, sell the story to a movie or TV studio or something else?
Submit the form below with this information and we'll get back to you as soon as possible. Thank you!