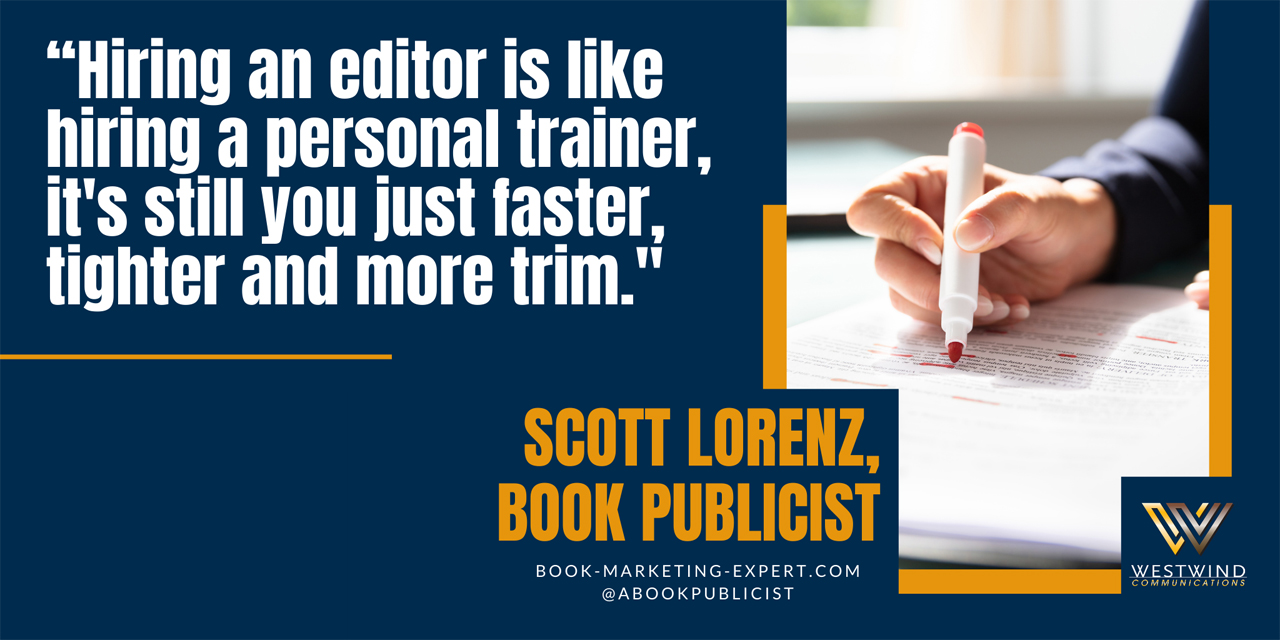 By Scott Lorenz
Westwind Communications
As a book publicist, I have a unique perspective in the publishing process and see the many roles that contribute to the success of a book. Some books are masterpieces ready to be promoted while others have issues that slow down the process and kill a project's momentum.  Because I work so closely with the final product, I have a good understanding of what can make or break a book.
Besides book marketing, one of the most important things you can do as an author is to make sure an editor is a member of your team.
Authors and editors are two very different jobs. Both of these roles are equally important to book creation. However, when an author is their own editor, the lines that distinguish the two jobs can easily get blurred, and the quality of work ultimately suffers. Nothing quite compares to a book that has been properly edited with a fine-tooth comb. A polished manuscript creates potential for a much better book marketing experience overall.
The Editor's Role on a Book Publishing Team
"Nothing detracts from good writing like bad editing," says Debra Englander, an experienced non-fiction editor and writer. "Submit your best work. Have it copy-edited and proofread by a professional. Don't ruin your reputation because of preventable mistakes."  Englander served as editorial director at John Wiley Publishing for nearly 17 years and was on the receiving end of thousands of pitches from agents and authors. She currently works with authors on creating winning book proposals and editing manuscripts.
In an interview with author Jane Thurnell-Read discussing how to get a book published, Englander stressed the importance of the division of labor within a book. An editor provides the objectivity that one lacks when reviewing their own work. Their job isn't to change the meaning of a book, but rather to make it better. Englander said authors can't always tell what a scene is lacking, or if it's clear enough to someone who's unfamiliar with the subject matter.  After all, perception is just as important as intention in the world of book publishing.
Ensure Your Book is Publisher-Ready
An editor can clean up the original content and make awkward sentence structure and grammatical errors much less likely. These details can throw off the flow of a book and create obstacles for the reader's comprehension. Those types of unfavorable features will likely be noticed early on in a publishing attempt and could very well result in rejection.
With over 25 years of editorial experience, Tiffany Yates Martin understands how to make the publishing process better for everyone involved. "Reputable, competent editors will save authors immense amounts of time and agony in deepening, developing, and polishing their stories, and can often give authors a leg up in attracting the attention of agents and editors, and make their stories more salable."
Her extensive work with publishing houses such as New York Times and Writer's Digest, has left her with the belief that editing is the most important part of the writing process. "Editing and revision are the real work of writing—and often where the story is fully found and developed and the magic happens…Because most authors were never taught this fact—nor how to edit and revise—many get disheartened when their first draft isn't publisher-ready, or when the revision process may be more demanding or difficult than they expected. That's not a reflection of your talent or skill but a completely normal part of the process for nearly all authors, at all levels of experience and skill," explains Martin.
Before your book is introduced to a publisher, it needs to go through a rigorous editing process. Although being your own editor may sound enticing, no author is above hiring an editor. As Tiffany Yates Martin says, "Even editors need editors."
Good Editing Leads to Successful Book Marketing
Aspiring authors sometimes fear that an editor will make their work less authentic, but I've found the opposite to be true. Hiring an editor is like hiring a personal trainer; it's still you just faster, tighter and trimmer. The work can still get done without one, but it's a much more tedious process. Because of its time-consuming nature, refined writing needs multiple sets of eyes to ensure that everything on paper is intentional.
There is no shame in working with multiple people to ensure the highest quality of work. In fact, it's highly encouraged. Publisher's Weekly points out that grammatical errors are far too common to cut out entirely, but an effort to minimize them must be made. "The writer's primary task is to create work that is as compelling and error-free as possible. A great book cover, a marketing plan, and a cool author website are all important," they say, "but if an author hasn't spent the time and money for a solid editing job, it's all just wasted effort." Good book marketing and publicity can only do so much; the true quality of the book is essential to its success.
The Bottom Line: Authors, give yourself the best shot at success; hire an editor. Together, you can create the absolute best version of your work.
Book publicist Scott Lorenz is President of Westwind Communications, a public relations and marketing firm that has a special knack for working with authors to help them get all the publicity they deserve and more. Lorenz works with bestselling authors and self-published authors promoting all types of books, whether it's their first book or their 15th book. He's handled publicity for books by CEOs, CIA Officers, Navy SEALS, Homemakers, Fitness Gurus, Doctors, Lawyers and Adventurers. His clients have been featured by Good Morning America, FOX & Friends, CNN, ABC News, New York Times, Nightline, TIME, PBS, LA Times, USA Today, Washington Post, Woman's World, & Howard Stern to name a few.
Learn more about Westwind Communications' book marketing approach at https://www.WestwindBookMarketing.com or contact Lorenz at [email protected] or 734-667-2090 or fill out the form below. Follow Lorenz on Twitter @aBookPublicist. Want help titling a book? Check out Scott Lorenz's new award winning, bestselling book: Book Title Generator- A Proven System in Naming Your Book www.BookTitleGenerator.net.
Would you like help promoting your book?
If so, tell us a little about your book. What is the title? Do you have a publisher? What is the publish date? How many pages is your book? What is the cost? Do you have web site? What is your specific goal I.E., to make money, raise awareness, get the attention of an agent or publisher, sell the story to a movie or TV studio or something else?
Submit the form below with this information and we'll get back to you as soon as possible. Thank you!