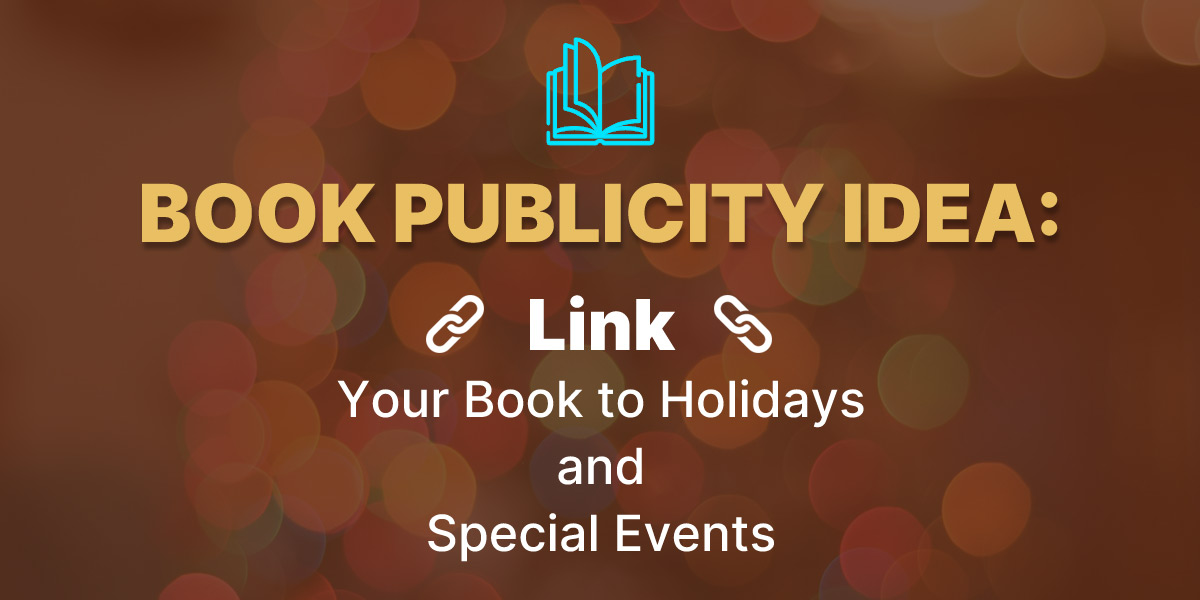 By Scott Lorenz
Westwind Communications
One creative way to get publicity for your book is to tie it to a holiday or special event. You'll be able to reach out to the media who often need a 'reason' to showcase your book right now. Furthermore, you may be able to reach your audience on a more personal level by promoting your book alongside a national holiday, theme month, or cause. There are thousands of holidays that celebrate various concepts as well as traditional holidays that can be used to market your book; you just have to find them.
There are a couple of terrific websites that are perfect for authors by providing a searchable list of national days of 'this or that' for every day of the year. On Days of The Year site, I searched 'book' and found dozens of relevant days. For example, November 1st is National Author's Day. Who knew? The site provides background about who started an event, when it started and just enough info for you to tie your book in to the holiday.
Another site is Holiday Insights. They have listings for each day of the month. There are plenty of examples I could enumerate but check it out and see for yourself. With so many possibilities, finding holidays that can be linked to your book will be no problem.  Check them out at these links: https://www.daysoftheyear.com/  and https://www.holidayinsights.com/
How do you tie your book into a national month like Breast Cancer Awareness month? I once promoted Jackie Miles, author of Cold Rock River, during Bipolar Disorder Awareness Month because she was diagnosed with Bipolar Disorder. I also tied a promotion of a horse rescue group into the Kentucky Derby, Preakness and Belmont races because the country is focused and interested in horses during that time of year.
I also once got television and newspaper coverage for a dentist when we came up with a sugar-free Easter basket. We offered parents tips on how to give non-sugar-filled treats over the holiday and received tremendous exposure by doing so. This would be a perfect technique for a dentist with a book as well.
I also promoted a book about sports clichés tapping into the season of each sport and the author's commentary and collection of clichés about that sport during its season.
For example, we pitched sports writers about football during the time they are covering it and baseball during the summer months. I know it may sound basic, but people don't want to hear about hockey in the summer, so you have to tailor your pitch and timing accordingly.
In my experience, subjects such as military books and novels do very well before anniversaries of dates of military and historical events like Memorial Day, July 4th, D-Day, Pearl Harbor Day, 911 etc.
Books on the topic of overcoming breast cancer will see increased sales during October due to Breast Cancer Awareness Month. Simply think about the subject matter of your book or any cause that is close to you, personally, and promote your book alongside the specific occasion, cause, or holiday.
Other holidays and cause or theme months to consider include:
January

New Years
Martin Luther King Jr. Day
Chinese New Year

February

Black History Month
Groundhog Day
Valentine's Day
President's Day
Ash Wednesday

March

Women's History Month
Read Across America Day
St. Patrick's Day
First Day of Spring

April

Autism Awareness Month
Parkinson's Disease Awareness Month
April Fools Day
Easter (Sunday)
Earth Day

May

National Pet Month
Social Media Month
May Day
Cinco de Mayo
Mother's Day
Armed Forces Day
Memorial Day

June

LGBT Pride Month
D-Day Anniversary
Father's Day
First Day of Summer

July

Independence Day/ 4th of July

August

Friendship Day
"Back to School"

September

Labor Day
Grandparent's Day
Patriot Day (9/11)
International Day of Peace
First Day of Fall

October

National Breast Cancer Awareness Month
Columbus Day
Sweetest Day
National Boss Day
United Nations Day
Halloween

November

Veteran's Day
Thanksgiving

December

Pearl Harbor Day
First Day of Winter
Christmas
New Year's Eve
The Bottom Line: Find a way to tie your book to special events or holidays and you'll increase your chances of getting media coverage.
Members of the press are looking for unique and interesting twists on every holiday. Create the angle that will entice them to interview YOU!
Book publicist Scott Lorenz is President of Westwind Communications, a public relations and marketing firm that has a special knack for working with authors to help them get all the publicity they deserve and more. Lorenz works with bestselling authors and self-published authors promoting all types of books, whether it's their first book or their 15th book. He's handled publicity for books by CEOs, CIA Officers, Navy SEALS, Homemakers, Fitness Gurus, Doctors, Lawyers and Adventurers. His clients have been featured by Good Morning America, FOX & Friends, CNN, ABC News, New York Times, Nightline, TIME, PBS, LA Times, USA Today, Washington Post, Woman's World, & Howard Stern to name a few.
Learn more about Westwind Communications' book marketing approach at https://www.WestwindBookMarketing.com or contact Lorenz at [email protected] or 734-667-2090 or fill out the form below. Follow Lorenz on Twitter @aBookPublicist. Want help titling a book? Check out Scott Lorenz's new award winning, bestselling book: Book Title Generator- A Proven System in Naming Your Book www.BookTitleGenerator.net.
Would you like help promoting your book?
If so, tell us a little about your book. What is the title? Do you have a publisher? What is the publish date? How many pages is your book? What is the cost? Do you have web site? What is your specific goal I.E., to make money, raise awareness, get the attention of an agent or publisher, sell the story to a movie or TV studio or something else?
Submit the form below with this information and we'll get back to you as soon as possible. Thank you!