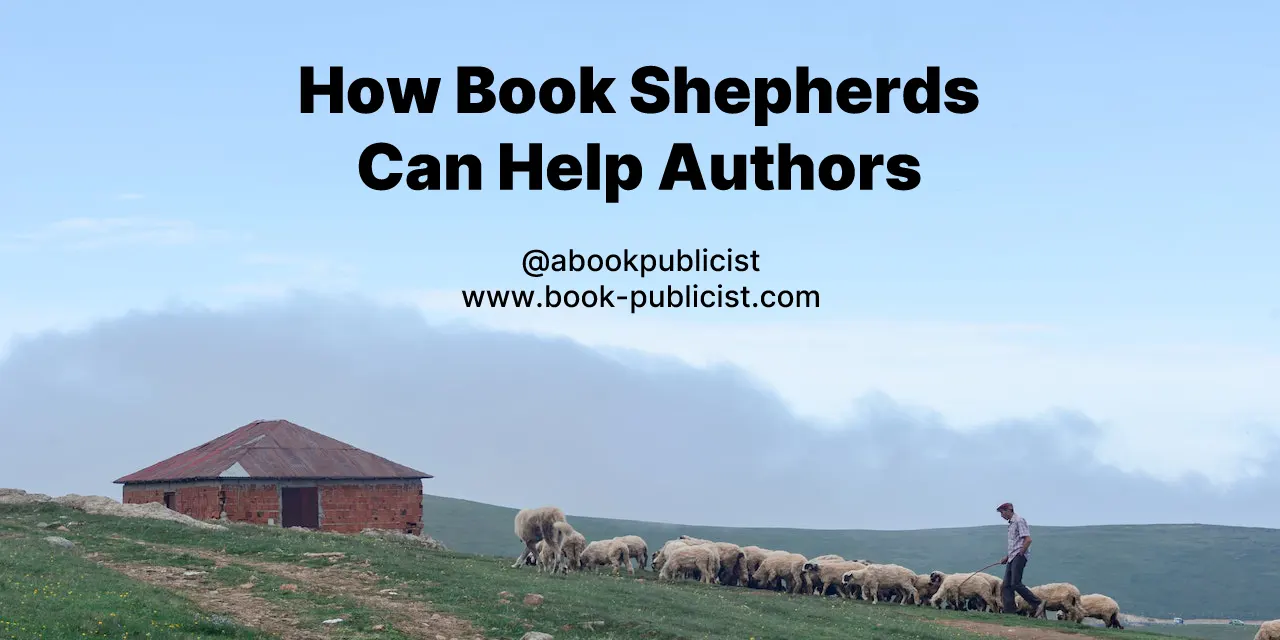 By Scott Lorenz
Westwind Communications
I recommend authors look into hiring a book shepherd for a current or upcoming writing and publishing project. A book shepherd is someone whose expertise in books and publishing will help you throughout the entire book process. From cover art, editing, dealing with Amazon to locating a printer, a book shepherd will assist you from start to finish.
I am a proponent of using a book shepherd because there are so many things to know about in the book publishing process and so much is swiftly changing its extremely difficult to keep up with it all. It takes a person with experience to guide you along the way and that's what a book shepherd does. Hiring a guide is a concept that's been working for humankind for thousands of years. If you were going to a foreign land and wanted to see and do as much as you could would you read a guide book or hire someone to show you? Consider yourself fortunate if you can afford a book shepherd as it is well worth the money spent.
Dan Poynter recently compiled a comprehensive list of book shepherds. At the top of his list is Shel Horowitz who explains his role: "Basically, I walk unpublished writers through the process of becoming well-published authors. I start by helping them determine if they should publish traditionally, self-publish, or subsidy publish–and then help them complete all the steps for their choice, then work with them on the marketing as the book nears completion." frugalmarketing.com
Tanya Hall is a unique book shepherd in that she works for a national publisher/distributor. "So instead of working in a vacuum without any up-to-the-minute feedback on trends, pitches, etc like most book shepherds operate, I have the luxury of a sales force and team of experts behind me to guide the direction I give to my clients. Most of our clients "in development" go through an editorial project development phase, followed by any number of services ranging from design to printing to (if accepted for publication/distribution by our review committee) distribution and marketing." For more information, visit her website greenleafbookgroup.com.
Bobbie Christmas explains that her book shepherding style is rooted in an editing background. "After twenty years of editing magazines, newspapers, and corporate communications, I opened Zebra Communications in 1992 and specialized in editing books. As self-publishing grew and became an excellent way for consultants and other entrepreneurs to promote themselves and their businesses, I heard horror stories about otherwise intelligent people who made terrible decisions that cost them money and time and in the end often embarrassed them, rather than helping them get their books out to the public. I realized my clients needed more than editorial services, so I added book shepherding to my offerings." Bobbie's website is www.zebraeditor.com.
Mike Ball, award winning syndicated columnist and author of three books, offers unique assistance to new authors from his position on the front lines of the publishing wars. "Hey, it can be complicated, time consuming and downright confusing," says Ball. "I just helped out an elderly author who got completely flummoxed by the forms Amazon threw at him. I understand it can be a daunting task for anyone. That' why I am happy to assist for a reasonable hourly fee." Find Mike at writeittight.com or call him at 313-405-7664.
Simon Warwick-Smith of www.warwickassociates.net says, "We are a one-stop shop, from cover and interior design to physical printing, and eBooks, to sales, marketing and publicity. Been in business for 20 years with a long list of satisfied clients"
Rita Mills says, "I don't much care for the term 'book shepherd' as I feel what I do is more like herding cats than docile sheep. People come to me with either an idea or a manuscript and I project manage the process and assign a freelancer for an ala carte service as needed. Some just come to me with a manuscript that needs editing so they can take it to a traditional publisher, and some want me to take on the whole project from manuscript to marketing. I work with 30+ freelancers (some of whom I have worked with over 20 years) who do all kinds of editing, design, PR, marketing, indexing, ghostwriting, grant writing, etc.
I know my people's skill set and can assign the individual with the specific genre/skills needed. For instance, someone who might be good at editing a nonfiction title might not be good with a fiction title or a children's book. I also specialize in children's picture books and I have portfolios on upwards of 300 illustrators. I have packaged roughly 450 titles since my years as the managing editor of an academic press at the University of Houston. I left there in 1997 to start my company, The Book Connection. My projects have ranged from back-of-the-room sales to high-end coffee table books. I am also a print broker, and print worldwide depending upon the need and goals involved in a project" For further information on Rita and her services, please visit her website bookconnectiononline.com.
"One of the biggest challenges in writing, publishing and marketing a book is to know what to do when, and how to do each step," says Beth Barany, a book shepherd, creative business consultant for authors and publishers, and an award-winning novelist. Beth says that authors come to her because they need customized support for wherever they may be in the process, whether it's brainstorming sessions to overcome writers block for writing a novel, figuring out how to publish their helpful nonfiction book, or getting support and gaining ease with social media marketing for their mystery novel. A big advocate for self-publishing, she works with her authors to help them write, publish and market the book through the channels that makes the most sense for their overall goals, timing and budget, including traditional publishing. Beth believes that authors have more choices than ever to create a tailored book for their audiences and that it's an exciting time to be an author entrepreneur. To find more about Beth Barany, and to sign up for a complimentary 30-minute session, go to bethbarany.com.
Linda F. Radke of Five Star Publications explains, "At Five Star Publications we have specialized in producing and marketing books since 1985. Our talented staff of editors, writers, illustrators, graphic designers, and publicity specialists is available to help with every aspect of publishing and promoting your book. Utilizing a network of experts in every aspect of publishing and publicity, Five Star Publications works closely with you every step of the way. Call us as soon as you start writing your book or at any point during the process of producing and promoting your book. We provide all the services, guidance, and ongoing support you need to successfully master every aspect of the publishing process. Once you contact us, we'll be pleased to provide a proposal tailored to your specific project. Since every project is different in scope and needs, your time frames and costs will be handled on an individual basis."
The Bottom Line: If you can afford to spend a few hundred to a few thousand dollars on a book shepherd, I highly suggest you do so as it will help save your sanity! There are so many exciting changes in the book publishing business it's practically impossible to keep up with them all. The book shepherd will help you through the entire process or just a piece of the process where you need it. Check out this audio interview about book shepherds I did with Clark Covington at this link,
Be sure to check out Dan Poynter's list of book shepherds below and get in touch with the book shepherd of your choice.
Zip Code/Country, Name, Email, Website
01035 Shel Horowitz [email protected]; www.frugalmarketing.com
06001 Brian Jud [email protected]; www.bookmarketingworks.com
07930 Barbara Kimmel [email protected]; www.nextdecade.com
20191 Sam Horn [email protected]; www.SamHorn.com
22314 Mike Vezo [email protected]; www.HelpUPublish.com
30188 Bobbie Christmas [email protected]; www.zebraeditor.com
45701 Janice Phelps [email protected]; www.janicephelps.com
68137 Lisa Pelto [email protected]; www.conciergemarketing.com
77041 Rita Mills [email protected]; www.bookconnectiononline.com
78704 Tanya Hall [email protected]; www.greenleafbookgroup.com
80015 Judith Briles, PhD [email protected]; www.TheBookShepherd.com
85226 Linda Radke [email protected]; www.FiveStarPublications.com
87505 Ellen Kleiner [email protected]; www.blessingway.com
89509 Jacqueline Simonds [email protected]; www.beaglebay.com
90212 Ellen Reid [email protected]; www.bookshep.com
90245 Jan King [email protected]; www.janbking.com
91304 Alan Gadney [email protected]; www.onebookpro.com
92111 Lindee Rochelle [email protected] www.penchantforpenning.com
92653 Sharon Goldinger [email protected]; www.detailsplease.com/peoplespeak
93103 Gail Kearns [email protected]; www.topressandbeyond.com
94304 John Eggen J[email protected]; www.missionmarketingmentors.com
94801 Peter Beren [email protected]; www.peterberen.com
95437 Cynthia Frank [email protected]; www.cypresshouse.com
95476 Simon Warwick-Smith [email protected]; www.warwickassociates.net
Canada Barbara Florio Graham [email protected]; www.SimonTeakettle.com
Canada Serena Williamson Andrew Ph.D [email protected]; www.bookcoachpress.com
Malaysia Shum F.P. [email protected]; www.authorpreneur.asia
New Zealand/Australia Maria Carlton [email protected]; www.marukibooks.com
Singapore Patrick Ang [email protected]
South Africa Val Waldeck [email protected]; www.valwaldeck.com
UK Mindy Gibbins-Klein [email protected]; www.bookmidwife.com
Book publicist Scott Lorenz is President of Westwind Communications, a public relations and marketing firm that has a special knack for working with authors to help them get all the publicity they deserve and more. Lorenz works with bestselling authors and self-published authors promoting all types of books, whether it's their first book or their 15th book. He's handled publicity for books by CEOs, CIA Officers, Navy SEALS, Homemakers, Fitness Gurus, Doctors, Lawyers and Adventurers. His clients have been featured by Good Morning America, FOX & Friends, CNN, ABC News, New York Times, Nightline, TIME, PBS, LA Times, USA Today, Washington Post, Woman's World, & Howard Stern to name a few.
Learn more about Westwind Communications' book marketing approach at https://www.WestwindBookMarketing.com or contact Lorenz at [email protected] or 734-667-2090 or fill out the form below. Follow Lorenz on Twitter @aBookPublicist. Want help titling a book? Check out Scott Lorenz's new award winning, bestselling book: Book Title Generator- A Proven System in Naming Your Book www.BookTitleGenerator.net.
Would you like help promoting your book?
If so, tell us a little about your book. What is the title? Do you have a publisher? What is the publish date? How many pages is your book? What is the cost? Do you have web site? What is your specific goal I.E., to make money, raise awareness, get the attention of an agent or publisher, sell the story to a movie or TV studio or something else?
Submit the form below with this information and we'll get back to you as soon as possible. Thank you!