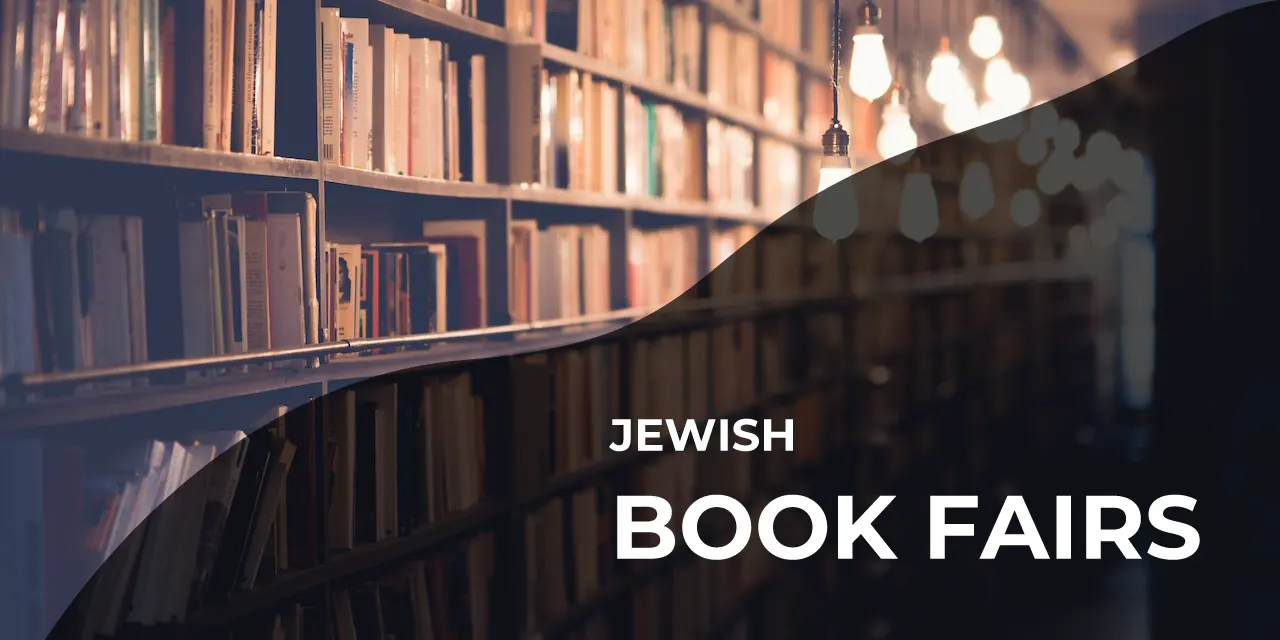 By Scott Lorenz
Westwind Communications
Book festivals and fairs are held year-round all over the world. As a book marketing specialist, I am the first to impress on authors the new and powerful marketing avenues open to all authors on the Internet – from websites and book trailers to social networks like Facebook, Twitter and YouTube. While these are excellent tools when used properly, authors should never overlook opportunities to meet the reading public face-to-face.
If you are a Jewish author or specialize in writing about Jewish issues, you should consider visiting some of these Jewish book fairs in the Jewish community.
1. Jewish Community Center of Greater Ann Arbor. Contact Karen Freedland, Cultural Arts and Education Director, at 734-971-0990. You can also visit jccannarbor.org.
2. Jewish Book Council's Jewish Book Month. Jewish Book Month is an annual event on the American Jewish calendar dedicated to the celebration of Jewish books. It is observed during the month proceeding Hanukkah, thus the exact date changes from year to year. Click here to learn more.
3. Valley of the Sun JCC in Scottsdale, AZ will be hosting the Arizona Authors Speaker Series monthly from October to April. The event will take place on the 3rd Monday of each month from 1:30pm. Arizona contributes much to the literary world with authors and as a story setting. The Valley of the Sun JCC will be treated to appearances by authors who are either from, reside, or use Arizona as a locale for their books. The authors will speak about their life and writings. You need to be a Brandies member to join this group. Guests and JCC Members are welcome for a $5 fee. RSVPs are required to Merrill Kalman: [email protected] or 480.296.3355
4. Valley of the Sun JCC in Scottsdale, AZ will also be hosting "Exceptional" Characters in Books & Film, which is co-sponsored by CJSN. The event will take place the 2nd Wednesday of each month from 1:00-2:30pm and will be featuring books with protagonists with disabling conditions; our discussions will focus on the way the disability impacts the characters and the plot. Click here to learn more.
5. JCC of Metro Detroit's 61st Annual Jewish Book Fair. At this event, fabulous authors from all over the world will present their books. For further information, contact Dalia Keen at 248.432.5467 or email [email protected] or visit jccdet.org.
6. Shalom Austin's Austin Jewish Book Fair. The schedule features lectures and discussions with acclaimed writers, the annual Book Lover's Luncheon, and an onsite bookstore in partnership with Barnes & Noble. The total cost for the Book Fair Package is: $25 JCC Member /$30 Non-member. Each individual event is: $10 JCC Member /$15 Non-member. Click here for further information.
7. St. Louis JCC's 34th Annual St. Louis Jewish Book Festival presented by Maryville University – St. Louis. All author events take place at the Staenberg Family Complex unless otherwise noted. For more information, please call the St. Louis Jewish Book Festival Hotline: 314.442.3299 or visit their website.
8. Marcus JCC Atlanta's 21st Edition of the Book Festival of the MJCCA. For 20 successful years, the Book Festival of the MJCCA has provided our community with a literary extravaganza featuring an exciting lineup of the year's most exceptional authors, speakers, and celebrities. Please join thousands of your fellow book lovers to listen, meet, and interact with your favorite authors in a variety of forums, including author meet-and-greets, book signings, a community read, and panel discussions. Click here for more details.
9. Mandell JCC of Greater Hartford will host the 20th Annual Mandell JCC Jewish Book Festival – Celebrating Israel, Debuts, Dads & Dudes. Click here for complete details.
10. Columbus JCC is finalizing the fantastic line up for JCC Bookfair! For more information about sponsorship contact Bookfair Director Debbie Vinocur at [email protected] or 614.559.6214. Click here for updates as they become available.
11. Evelyn Rubenstein Jewish Community Center in Houston, TX will be holding their 40th Annual Jewish Book & Arts Fair. For a calendar of events and complete brochure, click here.
13. JCC of Greater Washington will host the 43rd Annual Book Festival. The festival will present an exciting line-up of best-selling authors as well as up and coming writers new to the literary scene. The nine-day Festival will be packed with engaging author events, children's programs, book signings, and a bookstore brimming with Jewish must-reads. For details, to request a Book Festival brochure, or to join the Book Festival Committee, contact the Book Festival Director Lynn Gittleson at 301.348.3840 or [email protected] or click here.
14. San Diego Center for Jewish Culture will host the San Diego Jewish Book Fair. The San Diego Jewish Book Fair is the largest and most respected Jewish Book Fair in the nation and the largest literature-related event in San Diego County. For tickets and further information, click here.
15. Mandel JCC in Beachwood, Ohio will be celebrating the 13th Annual Festival of Jewish Books & Authors. Stay tuned for details and a full listing of authors, which will be announced this month! For information, please contact Julie Frayman at [email protected] or 216.831.0700 ext. 1316. Please check here for announcements.
16. The Jewish Federation of Sarasota-Manatee in Florida will host the Jewish Book Festival, with a lecture and Q&A with author Lloyd Constantine. For questions, contact Len Steinberg at 941.371.4546 ext. 106 or click here.
17. JCC Dallas will host the J Book Fair. For more information, please contact Rachelle Weiss Crane at [email protected] or 214.239.7128 or click here.
Book fairs typically seek out guest speakers. By volunteering to speak at a Jewish book fair, you will pique the interest of new readers and potentially gain a few new fans. Additionally, you can add the speaking appearance to your resume. Be sure to plan ahead because book fairs, speaking engagements and readings are all planned months in advance. For a complete list of book fairs and festivals visit book-marketing-expert.com
The Bottom Line: Reach out to the Jewish community and attend a book fair! You will be happy you did.
Book publicist Scott Lorenz is President of Westwind Communications, a public relations and marketing firm that has a special knack for working with authors to help them get all the publicity they deserve and more. Lorenz works with bestselling authors and self-published authors promoting all types of books, whether it's their first book or their 15th book. He's handled publicity for books by CEOs, CIA Officers, Navy SEALS, Homemakers, Fitness Gurus, Doctors, Lawyers and Adventurers. His clients have been featured by Good Morning America, FOX & Friends, CNN, ABC News, New York Times, Nightline, TIME, PBS, LA Times, USA Today, Washington Post, Woman's World, & Howard Stern to name a few.
Learn more about Westwind Communications' book marketing approach at https://www.WestwindBookMarketing.com or contact Lorenz at [email protected] or 734-667-2090 or fill out the form below. Follow Lorenz on Twitter @aBookPublicist. Want help titling a book? Check out Scott Lorenz's new award winning, bestselling book: Book Title Generator- A Proven System in Naming Your Book www.BookTitleGenerator.net.
Would you like help promoting your book?
If so, tell us a little about your book. What is the title? Do you have a publisher? What is the publish date? How many pages is your book? What is the cost? Do you have web site? What is your specific goal I.E., to make money, raise awareness, get the attention of an agent or publisher, sell the story to a movie or TV studio or something else?
Submit the form below with this information and we'll get back to you as soon as possible. Thank you!