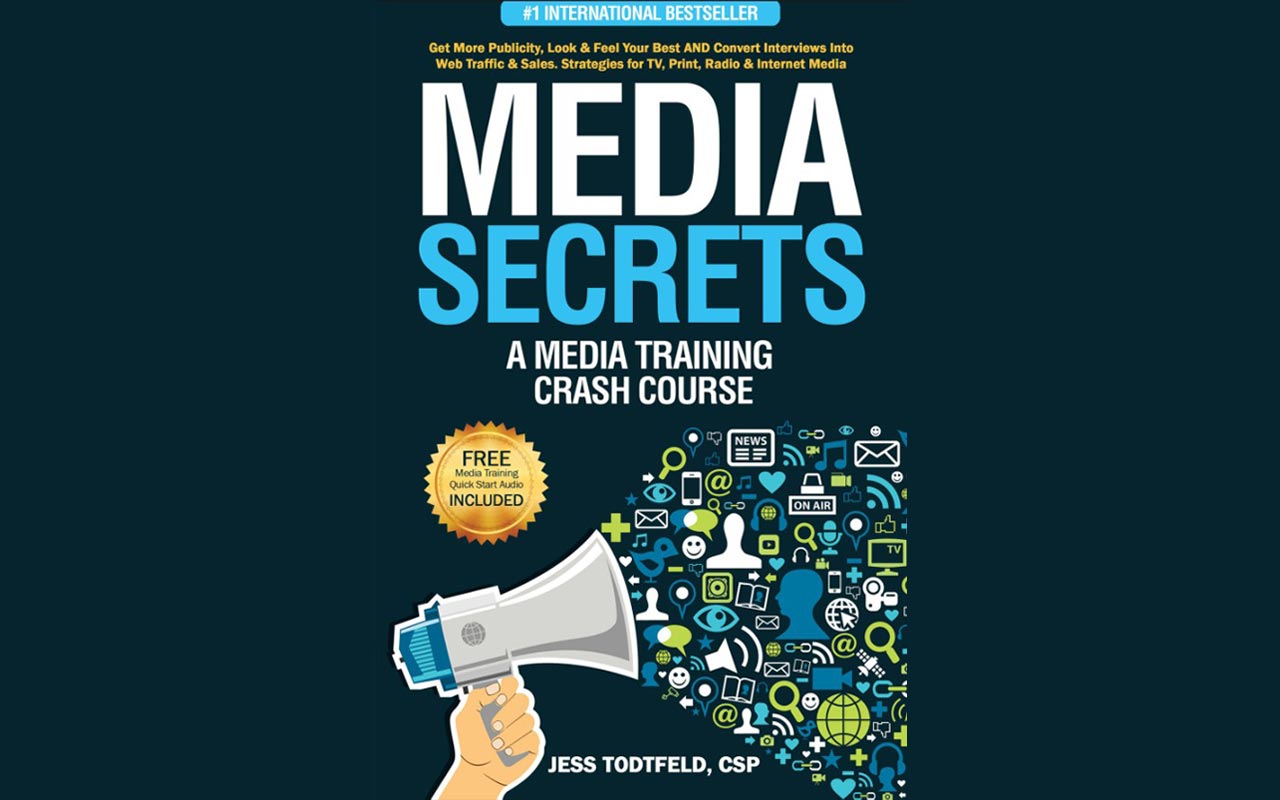 #1 Bestseller on Amazon in 25 Categories & 4 Countries
By Scott Lorenz
Westwind Communications
Media trainer and esteemed "media guru" Jess Todtfeld recently launched his new book, Media Secrets: A Media Training Crash Course. The book shows readers how to earn press coverage, ace interviews and personally gain the most from media interviews.
Media Secrets taps into Jess Todtfeld's former career as a producer for CBS, NBC and FOX to reveal how you can make the most of your time in the media spotlight. Jess was a former producer on FOX & Friends where we met a few years ago. Utilizing his unique grasp on the industry, Jess Todtfeld exposes how the media industry operates and how you can use that to your advantage.
Use Sound Bites. Todtfeld says the best interviews include succinct quotes or "sound bites" that the media can extract and then publish from entire dialogue. Here are some ways to frame your most important points during an interview to increase media pick up:
Express Emotion
Speak in Absolutes
Use Action Words
Use Clichés
Use Analogies
Use Humor
Include Facts and Examples
Make Predictions
Ask Rhetorical Questions
"The media especially likes predictions," says Todtfeld, "It takes the heat off them and it's interesting to hear what you think could play out.  In the future, if they figure out whether or not your prediction came true, they may choose to bring you back on."
"Give some of your best answers early in the interview," says Todtfeld, "Especially if it's taped or recorded, because they may only use your answers from that first part of the interview."
Media Secrets: A Media Training Crash Course is available in both eBook and hard copy. Visit https://www.amazon.com/Media-Secrets-Publicity-Interviews-Strategies-ebook/dp/B01LWBVJZO and watch the video and bonus links with tips to "Get on Good Morning America."
The Bottom Line:  If you are serious about maximizing your media exposure and every media opportunity, then buy this book. You owe it to yourself to learn from a top media pro how to optimize each interview, so it converts to sales, web traffic or other opportunities.
Book publicist Scott Lorenz is President of Westwind Communications, a public relations and marketing firm that has a special knack for working with authors to help them get all the publicity they deserve and more. Lorenz works with bestselling authors and self-published authors promoting all types of books, whether it's their first book or their 15th book. He's handled publicity for books by CEOs, CIA Officers, Navy SEALS, Homemakers, Fitness Gurus, Doctors, Lawyers and Adventurers. His clients have been featured by Good Morning America, FOX & Friends, CNN, ABC News, New York Times, Nightline, TIME, PBS, LA Times, USA Today, Washington Post, Woman's World, & Howard Stern to name a few.
Learn more about Westwind Communications' book marketing approach at https://www.WestwindBookMarketing.com or contact Lorenz at [email protected] or 734-667-2090 or fill out the form below. Follow Lorenz on Twitter @aBookPublicist. Want help titling a book? Check out Scott Lorenz's new award winning, bestselling book: Book Title Generator- A Proven System in Naming Your Book www.BookTitleGenerator.net.
Would you like help promoting your book?
If so, tell us a little about your book. What is the title? Do you have a publisher? What is the publish date? How many pages is your book? What is the cost? Do you have web site? What is your specific goal I.E., to make money, raise awareness, get the attention of an agent or publisher, sell the story to a movie or TV studio or something else?
Submit the form below with this information and we'll get back to you as soon as possible. Thank you!