Want to become a sought-after speaker? Then get cracking on this list and tell the world what you talk about and line up some speaking gigs. DO IT TODAY.
By Scott Lorenz
Westwind Communications
In this COVID-19 world, speaking gigs have been canceled by the thousands. But, some speakers are pivoting and getting booked in Virtual Conferences online. Being a book publicist, I am often asked to help authors get speaking gigs. But, it's a specialty in itself and outside our wheelhouse. Authors can make a lot of money speaking, more so sometimes than selling books, but generally, it's the book that creates the demand so there is a symbiotic relationship. Some of my clients earn anywhere from $2,500 to $10,000 per speech routinely. It's getting on the circuit that's difficult.
I've compiled a list of people and companies in this business that authors can engage with, who represent potential speakers. For many of these entities, their client is the company or organization looking for a speaker and not you.  They want a good fit and someone who'll deliver a terrific speech. As hockey great Wayne Gretzky said, "You can't score unless you shoot!"
Here's the list:
All American Speakers – https://www.allamericanspeakers.com/category/Authors
All American Speakers assists meeting professionals, event producers, corporate groups, universities, nonprofits and associations in booking speakers and entertainment. The database "houses booking information on everyone on the speaker circuit, regardless of their agency/bureau affiliation."
Endless Speaker Leads – https://www.endlessspeakerleads.com/learn-more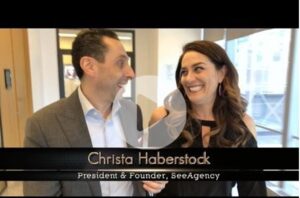 Jess Todtfeld author of Media Secrets: A Media Training Crash Course, has curated some of the biggest resources for speakers in one place.  Using online videos, Todtfeld explains how to find conferences and the contacts who are the decision-makers. Todtfeld suggests authors and experts add speaking as a profit center to help drive more book sales and drive more business.  Says Todtfeld, "If you can get more leads, you can make more connections and get more offers to have you as a speaker." Watch an interview Jess conducted with Christa Haberstock of the SeeAgency about getting a speaker's agent. https://www.youtube.com/watch?v=BO_V5vUpI4Y
American Program Bureau – https://www.apbspeakers.com/topics/
American Program Bureau books renowned literature speakers, including best-selling authors, historians and poets. The website has easy-to-browse categories and sub-topics to easily find speakers for any conference. I used this firm back when I was in college at UNLV to book speakers for the University. A great company with an incredible roster and reach.
Charli Jane Speaker Club – https://charlijane.com/charli-jane-speakers-club/
Charli Jane actively seeks speaking opportunities and lists them on their members-only website. Charli Jane's service is different from a speaker bureaus in that YOU reach out to the people looking for a speaker. They charge a nominal monthly fee but they also do the heavy lifting by compiling a list of 200+ speaking opportunities a month. Then you reach out to the best prospects. If it's a good fit you get booked.
Christian Speakers Services – https://www.christianspeakersservices.com/
The organization serves event planners and ministry leaders. Everyone on the speaker's roster has been vetted. You must complete an application to be represented by the organization.
ExpertClick – https://www.expertclick.com/
Many speakers and authors turn to Expert Click to send news releases and to expand their online platform. Their proprietary news release distribution service pushes out ten ways including via Google News. Authors can get found based on 30+ key words that meeting planners are searching for. They pull the author's blog on an RSS feed and syndicate them into the press rooms, thereby getting more exposure, distribution of content and 'Google Juice. According to CEO Mitch Davis, "We have 150+ speakers and authors who use us including Patricia Fripp, Alan Weiss and Jeffrey Gitomer.  We were featured in Tim Ferris's book Four Hour Work Week, and PRWeek called us 'a dating service of PR,' The New York Times called us 'dial-an-expert.' I use it and recommend it. When you join at this discount link you can save $100: https://www.ExpertClick.com/Discount/Scott_Lorenz
Espeakers – https://www.espeakers.com/
The eSpeakers Marketplace brings the world's greatest speakers together in one place and makes it easy for buyers to filter by topic, price range, and availability. Their platform takes the hassle out of booking and scheduling for both meeting planners and speakers.  They offer a cloud-based, multiuser calendar suite; (they're sort of like the Airbnb for speakers). They also connect speakers to over 50+ speaker directories saving hours of tedious administrative duties. It's no wonder they are the preferred choice for many top speakers.
GigSalad – https://www.gigsalad.com/
A service that books entertainment and speakers for parties, productions and events of all kinds. This platform books10,000+ performers and presenters across the U.S. and Canada. The website's search tool allows potential clients to view authors, categorized by genre and location.
HarperCollins Speakers Bureau – https://www.harpercollinsspeakersbureau.com/
The HarperCollins Speakers Bureau is only accessible to authors published by HarperCollins, Thomas Nelson and Zondervan. It works with corporations, universities, schools, associations, libraries, clubs, hospitals, foundations, and other professional groups and societies in the U.S. and around the world.
Harry Walker Agency – https://www.harrywalker.com/
The Harry Walker Agency works with thousands of meeting planners in need of speakers. The agency belongs to the International Association of Speakers Bureaus (IASB) and has largest breadth and highest caliber of speakers in the world.
International Association of Speakers Bureaus (IASB) – https://www.iasbweb.org/default.aspx
IASB is the only trade association that exclusively represents speakers bureaus and agencies. Meeting professionals that request assistance in locating a speaker are referred to the Bureau Directory on the IASB website. IASB encourages meeting professionals to seek out member bureaus when searching for speakers.
Lyceum Agency – https://www.lyceumagency.com/
The Lyceum Agency represents authors and academics for speeches, lectures and readings on a variety on subjects. Access to an impressive list of speakers is available on the website.
Nancy Vogl Speakers Bureau – http://www.nancyvoglspeakers.com/
A "boutique bureau" that books professional speakers in leadership, diversity and sales, futurists, health and wellness professionals and those sending a message of hope and inspiration. It's located in Traverse City, Michigan.
National Speakers Association (NSA) – https://nsaspeaker.org/
NSA has a network of 3,400+ speakers and has the tools, techniques and professional connections to help you share your message effectively. Whether you speak at their annual conference, chapter meetings or other events, NSA is eager to help you grow your business.
National Speakers Bureau – https://nationalspeakers.com/
National Speakers Bureau has achieved over 40 years of success! Clients are primarily corporations and business associations. Speakers are searchable on their website according to topic and fee. **Only a small fraction of received speaker inquiries result in a correct fit.
Professional Convention Management Association (PCMA) – https://www.pcma.org/
Professional Convention Management Association calls itself "the definitive authority in education, business networking and community engagement for leaders in the global meetings, convention and business events industry." PCMA has more than 6,500 members and 50,000 customers.
redBrick Agency – https://redbrickagency.com/applause/
The redBrick Agency works with corporations, conventions, arts and lecture venues, libraries, performing arts centers, schools, colleges and universities. The agency represents authors and all kinds of speakers.
Speakers' Spotlight – https://www.speakers.ca/
Speakers' Spotlight has arranged more than 20,000 speaking engagements in over 30 countries. The agency finds speakers for leading corporations, associations, government agencies, colleges and universities, school boards, health care organizations and charities.
Steven Barclay Agency – https://www.barclayagency.com/
The Steven Barclay Agency serves colleges, universities, schools, performing arts centers, corporations, associations, and for private events.
TED – https://www.ted.com/
Collectively, TED speakers have won every major prize awarded for excellence, including the Nobel, Pritzker, Pulitzer, Oscar, Grammy, Emmy, Tony and MacArthur "genius" grant. TED also seeks out emerging artists, scientists and thinkers, introducing them to the TED community.
To speak at TED – https://www.ted.com/about/conferences/speaking-at-ted
TEDx – https://www.ted.com/about/programs-initiatives/tedx-program
A TEDx event is a local gathering where live TED-like talks and videos previously recorded at TED conferences are shared with the community. TEDx events are fully planned and coordinated independently, on a community-by-community basis.
The Tuesday Agency – https://tuesdayagency.com/about/
The Tuesday Agency is a full-service lecture agency representing elite authors, journalists, historians, artists and scholars. Based in Iowa City, "The Tuesday Agency is dedicated to the literary arts and to thoughtful dialogue."
Thumbtack – https://www.thumbtack.com/
This platform's motto is "From house painting to personal training, we bring you the right pros for every project on your list." Although presentations are more obscure than other professional services offered, this platform does book motivational speakers. Special attention: Lifestyle coaches and authors sending a positive message.
"If authors want to get speaking gigs they need to figure out where the leads are and have an easy system for following up on them," says Jess Todtfeld, creator of  EndlessSpeakerLeads.com, a guide to finding and connecting with events and those who book them.
SPEAKERHUB – https://speakerhub.com/
Believes in the power of live presentations and personal connections, which is why they created SpeakerHub. They are not a speaker agency but the fastest-growing community of professional, independent, or amateur public speakers and trainers who'd like to be found by companies, event organizers and schools. They welcome anyone with expertise in any field who is open to speaking at conferences, events or schools as a paid or pro bono presenter.
The Bottom Line:  Want to become a sought-after speaker? Then get cracking on this list and tell the world what you talk about and line up some speaking gigs. DO IT TODAY.
Book publicist Scott Lorenz is President of Westwind Communications, a public relations and marketing firm that has a special knack for working with authors to help them get all the publicity they deserve and more. Lorenz works with bestselling authors and self-published authors promoting all types of books, whether it's their first book or their 15th book. He's handled publicity for books by CEOs, CIA Officers, Navy SEALS, Homemakers, Fitness Gurus, Doctors, Lawyers and Adventurers. His clients have been featured by Good Morning America, FOX & Friends, CNN, ABC News, New York Times, Nightline, TIME, PBS, LA Times, USA Today, Washington Post, Woman's World, & Howard Stern to name a few.
Learn more about Westwind Communications' book marketing approach at https://www.WestwindBookMarketing.com or contact Lorenz at [email protected] or 734-667-2090 or fill out the form below. Follow Lorenz on Twitter @aBookPublicist. Want help titling a book? Check out Scott Lorenz's new award winning, bestselling book: Book Title Generator- A Proven System in Naming Your Book www.BookTitleGenerator.net.
Would you like help promoting your book?
If so, tell us a little about your book. What is the title? Do you have a publisher? What is the publish date? How many pages is your book? What is the cost? Do you have web site? What is your specific goal I.E., to make money, raise awareness, get the attention of an agent or publisher, sell the story to a movie or TV studio or something else?
Submit the form below with this information and we'll get back to you as soon as possible. Thank you!