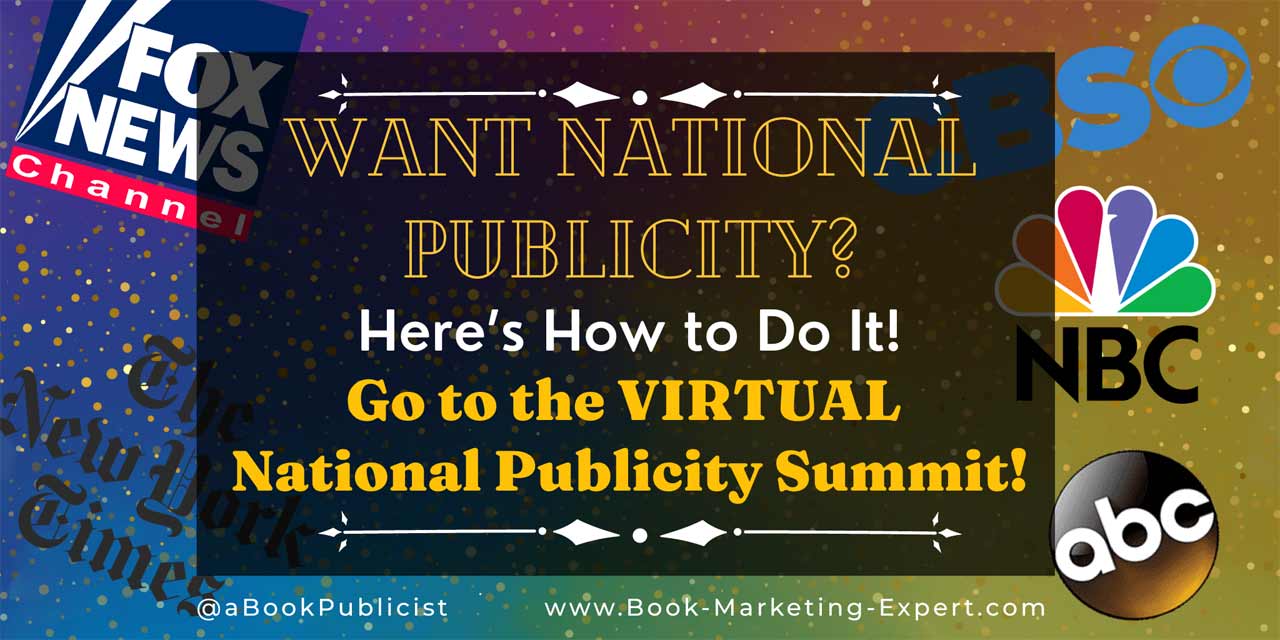 By Scott Lorenz
Westwind Communications
As a book publicist I get asked by clients and authors about going to the National Publicity Summit in New York. I've attended almost every Summit since Steve Harrison started it and go once or twice a year to create new media relationships, maintain old ones and of course, to pitch my clients to the media. Through the Summit, I've gotten clients booked on Fox News, PBS, CNBC, MSNBC and a number of national magazines.
I represent a lot of authors. Here's the problem: authors have to do most of the promotion of their books if they want them to sell. Even if you've been picked up by one of the big publishing houses, they only do so much to get you media attention. This is the reality.
So, let's say you decide to get media attention yourself. You plan your trip to New York City, where most of the big media are headquartered. You roll into Manhattan with your strategy all laid out: "First, I'm going to try to meet with the producer of Good Morning America, and then I'm going to Fox News, and then I'm going to see the guy at Reuters. After lunch, I'm going to try to talk to the Today Show and then I'm going to stop by and see if I can talk to the producer of 60 Minutes."
Forget about it. It's not going to happen.
Reason #1 why I recommend the Summit for many people is access, one-on-one, to these media gatekeepers in a very efficient and organized event. But is it for every author? Depending on your situation, it may or may not make sense to go. I'd recommend it if you have a consumer-oriented, non-fiction topic. Does it have broad audience appeal? Can your book help the average person in their day-to-day lives? If so, then it makes sense for you to consider attending.
If you have a highly technical topic such as how computers work, or one about a historical event such as WWII, it probably doesn't make sense to go to the Publicity Summit, unless you can connect your book to current trends. (In fact, the Summit staff will probably turn down your application if they feel that the media would not be interested in the topic.) Generally, fiction, poetry and books about localized topics will not do well at the Summit. For example, a book about the best bars in Chicago would probably not be of interest to the national media who attend the Summit.
Should you go if you feel you're not ready to meet the media? Here's the dirty little secret: no-one feels ready. Don't worry about that. If you're an expert with a decent topic with a unique angle, the Summit can work for you. Go there to build relationships, yes, but also go to get feedback from the news industry professionals. I've seen people before the Summit starts coming in thinking they're heading in one direction, then after having interacted with 100 journalists and producers, leaving with all new information or direction…a better book title, the perfect pitch, new business ventures and relationships.
I'm such a fan of Steve Harrison and his National Publicity Summit that I am now an affiliate for the Summit. If you are interested in attending please check out this link: http://bit.ly/Big-Time-PR
Book publicist Scott Lorenz is President of Westwind Communications, a public relations and marketing firm that has a special knack for working with authors to help them get all the publicity they deserve and more. Lorenz works with bestselling authors and self-published authors promoting all types of books, whether it's their first book or their 15th book. He's handled publicity for books by CEOs, CIA Officers, Navy SEALS, Homemakers, Fitness Gurus, Doctors, Lawyers and Adventurers. His clients have been featured by Good Morning America, FOX & Friends, CNN, ABC News, New York Times, Nightline, TIME, PBS, LA Times, USA Today, Washington Post, Woman's World, & Howard Stern to name a few.
Learn more about Westwind Communications' book marketing approach at https://www.WestwindBookMarketing.com or contact Lorenz at [email protected] or 734-667-2090 or fill out the form below. Follow Lorenz on Twitter @aBookPublicist. Want help titling a book? Check out Scott Lorenz's new award winning, bestselling book: Book Title Generator- A Proven System in Naming Your Book www.BookTitleGenerator.net.
Would you like help promoting your book?
If so, tell us a little about your book. What is the title? Do you have a publisher? What is the publish date? How many pages is your book? What is the cost? Do you have web site? What is your specific goal I.E., to make money, raise awareness, get the attention of an agent or publisher, sell the story to a movie or TV studio or something else?
Submit the form below with this information and we'll get back to you as soon as possible. Thank you!