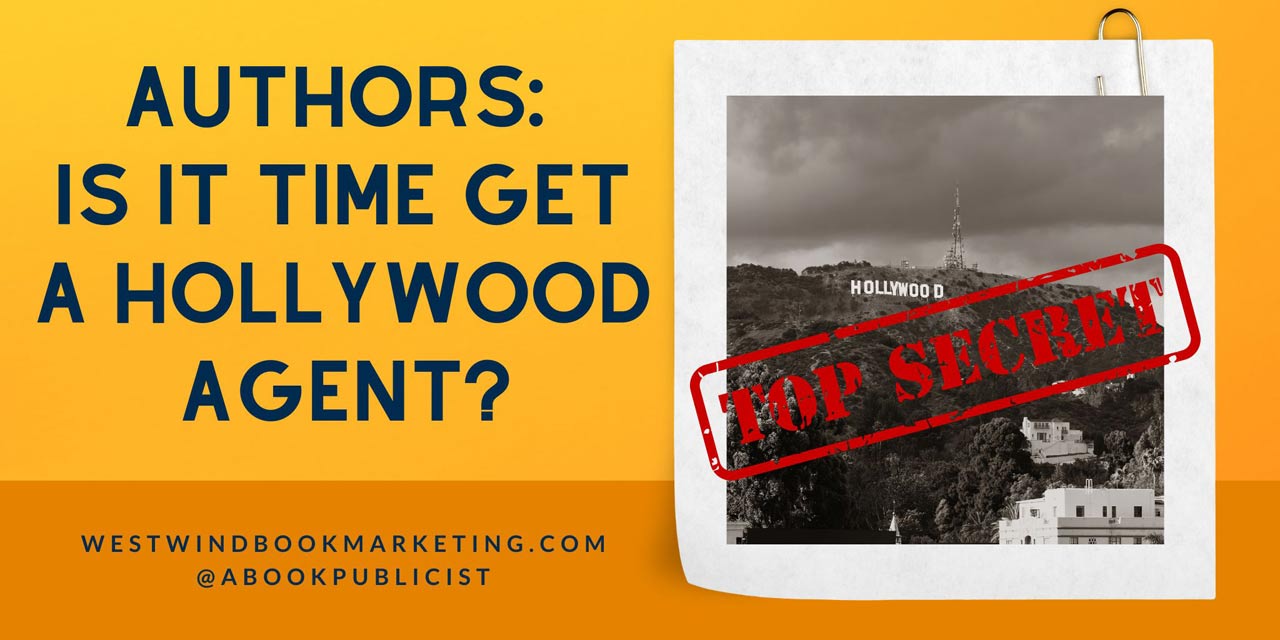 By Scott Lorenz
Westwind Book Marketing
These days, more and more authors want to turn their books into movies. This is no surprise as streaming services like Netflix, Hulu, and Amazon Prime are more popular today than ever before and always in need of fresh content.
So the question is, how can you connect with a Hollywood agent who can turn your dream into a reality? Below is my list of all the tips, tricks, and resources you need to do just that. No matter what strategies you utilize, be patient. Remember, Hollywood movies don't make their debut overnight. It will take a great deal of time, creativity, and persistence for your book to reach movie status.
Dr. Ken Atchity, a literary manager who developed The Meg stated that Walt Disney Studios bought the rights to the book in the 1990's. It didn't get produced until Warner Brothers did it in 2014. Allan Scott, the producer of the Queen's Gambit revealed it took 30 years, and 9 rewrites for the movie to come to life. The moral of the story? Never give up.
Write a Script First
Hollywood agents want to see how your book has the potential to become a top movie. That's why it's a good idea to write a script yourself. With a well-written script, you're far more likely to spark interest and inspire those in Hollywood. This is the first step you should take before you look for people to pitch to. If script writing is not your skill set, then hire it out. Here's an article I wrote about that option. How to Get Your Book Adapted into a Screenplay.
Use a Matchmaking Service
If you were looking for someone to date, a matchmaking service might be a good option. The same holds true if you're in search of a Hollywood agent. While there are a number of matchmaking services out there, here are my top picks.
Be Cautious of Trends
All too often a successful movie comes out and writers try to write a similar story with their own twist. The truth is that Hollywood agents don't want to see the same ol' plots. Do your best to keep your book original. While it's easier said than done to think out of the box, doing so is essential if you'd like to stand out.
Ask Agents If They Can Take a Look
It may be tempting to simply send your script to several of agents. According to Richard Walter, UCLA's screenplay expert, this strategy will likely send your message to the trash. Instead, send an intro letter or email to these agents where you introduce yourself. Then, ask them if they're willing to take a look at your script. If you get a reply like "go for it," congratulations, your foot is in the door.
Network, Network, Network
According to Daniel Parsons, bestselling author of several series, networking is the key to finding a Hollywood agent who is interested in your work. Attend writer's conferences, festivals, and a variety of social events. When you do, be prepared with your short elevator pitch. You never know who you may meet and you only get one chance to make a first impression.
Rank Highly on Amazon Books
Let's be honest. If you're popular on Amazon, your chances of getting noticed by Hollywood agents and movie producers are pretty high. While it will take a great deal of effort and determination, do your best to get your book ranked in the top 1% of Amazon Books. This worked for self-published author, Colleen Houck whose book Tiger's Curse is currently being turned into a movie.
Connect with Agents on LinkedIn and Facebook
There are many authors out there who already have established relationships with Hollywood agents so it only makes sense to find them on Facebook or connect with them on LinkedIn. Harness the power of social media.
Keep your finger on the pulse of Hollywood by looking at a list of directors who've been nominated for awards and see which agents represent them and who repped the originating book. Keep up to date on changes in representation with IMDbPro Track. IMDb is THE place to be. Study it. You can find anybody in the film business with IMDb."
Enter Your Book in Screenplay Competitions
Caren Lisssner's book "Carrie Pilby" was turned into a film starring Nathan Lane by a Hollywood film director and three producers. She encourages authors to take advantage of screenplay competitions because you never know what will happen. I use FilmFreeway to submit my client's screenplays to dozens of the thousands of film festivals worldwide. My clients have won 100+ awards worldwide. When we get a win Westwind Book Marketing sends out a press release.
Embrace the Roadblocks
One of my clients, Jonathan Sanger, penned a memoir called "The Making of the Elephant Man, A Producer's Memoir" He tells the story of the screenplay he received from his children's babysitter and how he eventually turned it into a classic movie. Sanger explains all of the hardships that he was faced with along the way and how he overcame them.
The Bottom Line: Your book or screenplay will not turn itself into a movie. You must place it in front of the right eyes. An agent can help you do it. Good luck!
Book publicist Scott Lorenz is President of Westwind Communications, a public relations and marketing firm that has a special knack for working with authors to help them get all the publicity they deserve and more. Lorenz works with bestselling authors and self-published authors promoting all types of books, whether it's their first book or their 15th book. He's handled publicity for books by CEOs, CIA Officers, Navy SEALS, Homemakers, Fitness Gurus, Doctors, Lawyers and Adventurers. His clients have been featured by Good Morning America, FOX & Friends, CNN, ABC News, New York Times, Nightline, TIME, PBS, LA Times, USA Today, Washington Post, Woman's World, & Howard Stern to name a few.
Learn more about Westwind Communications' book marketing approach at https://www.WestwindBookMarketing.com or contact Lorenz at [email protected] or 734-667-2090 or fill out the form below. Follow Lorenz on Twitter @aBookPublicist. Want help titling a book? Check out Scott Lorenz's new award winning, bestselling book: Book Title Generator- A Proven System in Naming Your Book www.BookTitleGenerator.net.
Would you like help promoting your book?
If so, tell us a little about your book. What is the title? Do you have a publisher? What is the publish date? How many pages is your book? What is the cost? Do you have web site? What is your specific goal I.E., to make money, raise awareness, get the attention of an agent or publisher, sell the story to a movie or TV studio or something else?
Submit the form below with this information and we'll get back to you as soon as possible. Thank you!