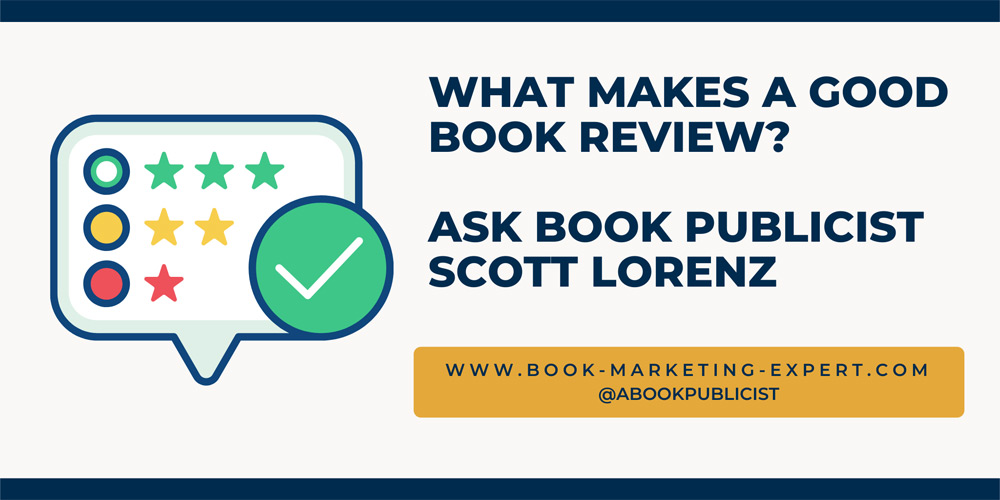 By Scott Lorenz
Westwind Communications
As a book publicist I've read a few thousand book reviews and have written a few dozen myself.  I have a pretty good idea about how to write a book review that is helpful to potential readers and buyers of a book. Authors have a difficult time getting people to write a review because their fan base of readers don't have time or most likely don't know how to write a review. So, here it is. Hand this to anybody who says, 'I just don't know how to write a review.'
Before you pick up a pen, ask yourself these questions:
How did the story affect you?
Did it make you laugh, cry?
Did it affect the way you think about family, spouse, or life in general?
Would you recommend it to others?
Would you by it as a gift for events such as graduations, birthdays, etc?
Here's What Makes A Good Book Review
1. In general, you are trying to help someone determine if they should buy the book. "It needs to give a clear reason for someone to want to read or avoid the book in question. Narrowing the potential audience is also helpful," says Ross Rojek, editor and publisher of the San Francisco Book Review.
2. Talk about your impression of the book. "For fiction reviews, brief plot summaries. You don't need details about every character and every event. For non-fiction, say what the book's premise is and whether it fulfills that," says Debra Englander, former acquisitions editor for Wiley Books.
3. Include qualifications or relevant background about the author. "Include information about author – reputation, qualifications, etc, — anything relevant to the book and the author's authority," says Bill Asenjo, award-winning freelance writer. For example, a lawyer should be able to write a good courtroom thriller, but not a book on sewing.
4. Provide a short example from the book. "One good phrase or sentence that encapsulates the book is easy to promote," Rojek explains. "Be mindful not to give away the ending!"
5. Who should buy this book? "Do compare similar products," Amazon's tips on writing reviews states. For example, "If you liked Harry Potter you'll love this book" or, "If you are into current news events, this book is for you! It's perfect for middle school children and older."
6. Talk about what kind of reader this book is for. "Summarize some of your thoughts on the book by suggesting the type of reader you'd recommend the book to," children's author Luisa Plaja told BookTrust. If this is a great gift book for the recent college graduate or pregnant Moms then say so!
7. Did the book live up to expectations? Does it deliver on the title? If the book title is "How to Build a House?" Does it in fact tell you how to do it? "Describe what the book does well and what it does poorly (and why), but it should also explain who would value the book," said Dr. Eric Russell, book reviewer and English Language and Literature professor.
8. Be sure to create a snappy title for your review. Perhaps one with a key word that would help someone find your review about the book. Using the house theme again:  "If You Want to Build A House, THIS Book with Tell You How!"
9. Add the stars on a scale of 1-5 with 5 being great. "A five-star review should be for a book that has everything: good writing, good-editing, and a story that makes you want to read it again and tell your friends about," Neal Wooten, author and managing editor of Mirror Publishing, advises in his article on HuffPost.
What Not To Do:
1. "Be honest, but not overly critical," Englander warns, "If a reviewer is especially nasty, readers wonder if he/she had a personal agenda."
2. Don't lose focus on what you're reviewing. "Review the book you read – not the book you wish the author had written," Asenjo cautions.
3. "Don't describe your seller or shipping experience," Amazon urges. Don't comment on the fact it arrived late or the book was damaged. The author has no control over that and nobody cares.
4. "Don't review books by your friends or enemies," suggests Rebecca Skloot, a previous vice president of National Book Critics Circle. Doing this doesn't provide you any real practice on writing a review and doesn't help anyone. Keep your intentions as a reviewer in check.
5. "Don't use a book review as an excuse to show off your writerly voice," recommends Ann Finkbeiner of The Open Notebook, board of directors and regular reviewer for The New York Times Book Review and The Wall Street Journal. A review's purpose is to evaluate a piece of text and create discussion with other readers. If you want to showcase your writing ability, start a blog.
The Bottom line: Authors, want reviews? Ask your readers to write one! Readers, don't know how to review? Follow the guidelines above to ensure the creation of a helpful review for future readers!
Book publicist Scott Lorenz is President of Westwind Communications, a public relations and marketing firm that has a special knack for working with authors to help them get all the publicity they deserve and more. Lorenz works with bestselling authors and self-published authors promoting all types of books, whether it's their first book or their 15th book. He's handled publicity for books by CEOs, CIA Officers, Navy SEALS, Homemakers, Fitness Gurus, Doctors, Lawyers and Adventurers. His clients have been featured by Good Morning America, FOX & Friends, CNN, ABC News, New York Times, Nightline, TIME, PBS, LA Times, USA Today, Washington Post, Woman's World, & Howard Stern to name a few.
Learn more about Westwind Communications' book marketing approach at https://www.WestwindBookMarketing.com or contact Lorenz at [email protected] or 734-667-2090 or fill out the form below. Follow Lorenz on Twitter @aBookPublicist. Want help titling a book? Check out Scott Lorenz's new award winning, bestselling book: Book Title Generator- A Proven System in Naming Your Book www.BookTitleGenerator.net.
Would you like help promoting your book?
If so, tell us a little about your book. What is the title? Do you have a publisher? What is the publish date? How many pages is your book? What is the cost? Do you have web site? What is your specific goal I.E., to make money, raise awareness, get the attention of an agent or publisher, sell the story to a movie or TV studio or something else?
Submit the form below with this information and we'll get back to you as soon as possible. Thank you!