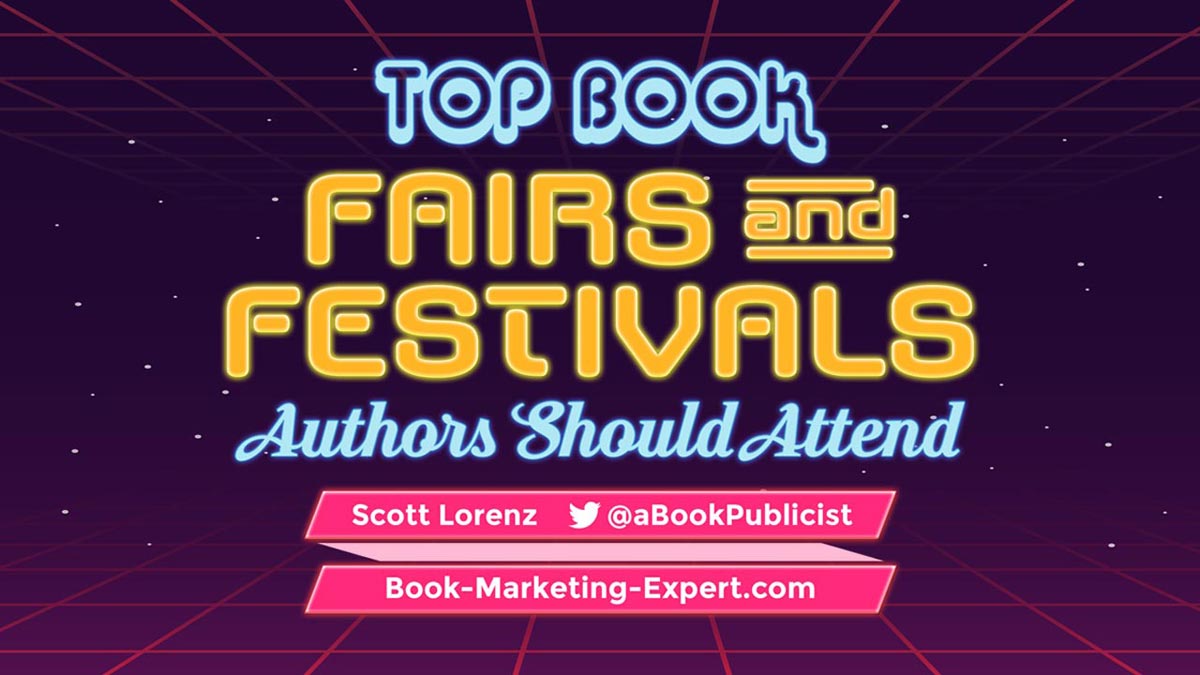 By Scott Lorenz
Westwind Book Marketing
If you're an author, you owe it to yourself to check out this list of book festivals and fairs that authors can attend for 2023. These events are an excellent way for authors to meet book buyers and reviewers, interact with fellow authors and publishers, meet your readers and find new ones too. As an author you can network with book industry leaders, locate the help you need, such as a publicist or book editor, and learn what's new in the marketplace.
Book fairs usually want speakers. By volunteering to speak, authors not only gain great exposure but can also add that appearance to their resume and press releases. One of my author clients was a member of a panel of authors at a Southern Book Festival. I issued a press release about it and added it to her accomplishments on her bio. Not only is she a respected author but she's now an author admired by her peers. It's these little things that all add up in the minds of reviewers and the media when they decide who they will write about. If you want to land a panel slot or speaking gig you must plan ahead; dates for panel participants, speakers and autograph sessions are usually arranged months in advance.
Upcoming Book Fairs and Festivals
For more upcoming book events check out C-SPAN2 at: https://www.c-span.org/bookTv/ click on the Book Fairs tab.  For more information about book events and book marketing visit https://www.Book-Marketing-Expert.com.
1. Winter Poetry & Prose Getaway, January 13-16, 2023, Galloway, NJ. A participant-focused writers' conference. Advance your craft and energize your writing at the 29th Winter Poetry & Prose Getaway. Enjoy challenging and supportive workshops, insightful feedback and an encouraging community. Choose from workshops in poetry, fiction, nonfiction, memoir, songwriting and more. https://wintergetaway.com/
2. Writers in Paradise at Eckerd College, January 14-21, 2023, St. Petersburg, FL. Located on the beautiful waterfront campus of Eckerd College in St. Petersburg, Florida, this writers' conference features professional writers at the top of their form spending quality time with motivated and talented participants seeking an intimate, unhurried climate for learning…in paradise. https://www.writersinparadise.com/
3. Colrain Poetry Manuscript Conference, January 27-30, 2023, Zoom (Virtual). Unparalleled for its rigor, thoroughness, and integrity, Colrain is the original, one-of-a-kind manuscript conference. Faculty includes nationally renowned poet-editors and publishers. Work with the best for the best results! http://www.colrainpoetry.com/
4. Sunshine State Book Festival, January 27-28, 2023, Gainesville, FL. Sunshine State Book Festival is bringing readers and writers together again for the fourth year. Their 2023 festival will feature 150 authors writing in 15 genres. https://www.sunshinestatebookfestival.com/
5. Rancho Mirage Writers Fest, February 1–3, 2023, Rancho Mirage, CA. The Rancho Mirage Writers Festival is a world-class gathering of the finest writers who contribute to the intellectual vitality of their time. The City of Rancho Mirage, California, welcomes 60 authors and 1,000 readers from around the globe to the Rancho Mirage Library and Observatory each January. Jamie Kabler, who wanted to bring a premier intellectual event to the Coachella Valley, founded the festival in 2014, which has been described as "Coachella for the brain." https://www.rmwritersfest.org/
6. SCBWI New York Conference, February 10-12, 2023, New York, NY. This is the first in-person conference in over two years, they're launching a brand-new format: Creative Labs. The conference is now built around an intensive workshop model, which will allow attendees to learn so much more and form lasting community connections. https://www.scbwi.org/events/in-person-ny-winter-conference-2023/
7. Literary Women Long Beach Festival of Authors, February 11, 2023, Long Beach, CA. Started in 1982 the Literary Women Festival of Authors is dedicated to helping balance the field of writers. They seek to share work that may not have the stage to do so. Proceeds go to the Long Beach Public Library to purchase books that will be featured at upcoming festivals. Any bookworm will like this spin on literary festivals. https://literarywomen.org/festival.php
8. Savannah Book Festival, February 16-19, 2023, Savannah, GA. The Savannah Book Festival has been around since 2008. It offers live streaming sessions with leading authors. https://www.savannahbookfestival.org/
9. 19th annual San Francisco Writers Conference, February 16-19, 2023, Hyatt Regency, San Francisco, CA. This will be the 19th Celebration of Craft, Commerce and Community for all writers. Attendees will join with 100+ presenters and fellow writers from across the country and around the world at this year's event. The SFWC events are consistently rated among the top writers' conferences anywhere. https://www.sfwriters.org/
10. Amelia Island Book Festival, February 18, 2023, Fernandina Beach, FL. During the Expo, you'll have opportunities to engage with readers in an up-close and personal way to showcase and sell your books. Multiple activities and Celebrity Author breakout presentations are designed to keep visitors engaged and circulating around exhibits throughout the day. https://www.ameliaislandbookfestival.org/author-expo
11. Southern Voices 2023, February 21-25, 2023, Hoover, AL. Southern Voices is a five-day festival celebrating art, music and writing. Sponsored by the Hoover Public Library, the first conference was held in 1993. The author's conference is a one-day part of the festival celebrating the written word. https://www.hooverlibrary.org/sv?sfw=pass1670037254
12. F.R.E.S.H. Book Festival, February 23-25, 2023, Daytona Beach, FL. F.R.E.S.H. Book Festival promotes literacy year-round. They provide students with books, host conversations with authors from around the world, and support other literacy initiatives. https://www.freshbookfestivals.net/fresh2023
13. Asheville Christian Writers Conference, February 24-26, 2023, Asheville, NC. The Asheville Christian Writers Conference is not a level of writing – it's a battle cry. God calls us to step up and answer with the best work possible using the talents He has given. They are called together to focus their hearts on the task Christ assigned us… to strengthen their ties with one another and hone their craft of writing so they might effectively spread the Word of God through fiction and non-fiction books, screenplays, scripts, articles, and blogs. https://ashevillechristianwritersconference.com/
14. Rose Glen Literary Festival, February 25, 2023, Sevierville, TN. The Sevierville Chamber of Commerce initially created the festival in 2010 to help local authors, giving them a chance to sell books, meet readers and network. The event will feature presentations, book signings and workshops. https://www.roseglenfestival.com/
15. North Texas Teen Book Festival, March 3-4, 2023, Irving, TX. The North Texas Teen Book Festival brings YA authors and YA readers together to celebrate teen literature, cultivate a love of reading, and inspire lifelong readers (the three core components of their mission statement). https://www.northtexasteenbookfestival.com/
16. 26th Annual Children's Literature Festival, March 3-4, 2023, Redlands, CA. The Children's Literature Festival has been hosted by the University of Redlands for the last 26 years, and it returns in-person this coming March. It's designed to bring together students, librarians, teachers, parents, authors and illustrators for a celebration of children's literature. https://sites.redlands.edu/childrens-literature-festival/
17. Dahlonega Literary Festival, March 4, 2023, Dahlonega, GA. The Dahlonega Literary Festival is an annual celebration of books that takes place in March. Situated in Historic Downtown Dahlonega, it is an intimate festival about books and authors with a mission to promote interaction between readers and writers in a relaxed, informal environment. https://www.literaryfestival.org/
18. Deep Valley Book Festival, March 4-5, 2023, Mankato, MN. The largest literary festival in Southern Minnesota, DVBF provides readers the chance to interact with their favorite authors and meet new ones. This FREE family event features authors and illustrators, book sales and signings, a full day of programs, panel discussions, book readings, and children's' programs. https://www.deepvalleybookfestival.com/
19. Tucson Festival of Books, March 4-5, 2023, Tucson, AZ. The Tucson Festival of Books is a community-wide celebration of literature. Offered free-of-charge, the festival exists to improve literacy rates among children and adults. All proceeds for the festival support local literacy programs. http://tucsonfestivalofbooks.org/
20. Greater Los Angeles Writers Conference, March 4-6, 2023, Los Angeles, CA. Attendees to this conference benefit from a full spectrum of educational lectures, panels, interactive workshops and special events, featuring veteran educators, industry professionals, agents and publishers focused on the craft and business of writing. Speakers are selected based on who is best suited to the curriculum, so you get the most informed presentations and the latest from the world of publishing. Along with perennial favorites, they offer important new voices and industry experts. http://www.wcwriters.com/aglawc/
21. Southwest Florida Reading Festival, March 4, 2023, Fort Myers, FL. There is something for all ages to experience at the Southwest Florida Reading Festival. Everyone enjoys the multiple stages with the celebrity authors who share 'inside scoop' about their latest books or what makes a story idea click for them. You will be able to buy books and have the authors personalize and sign them too! Kids will be mesmerized by the storytellers. There's also an abundance of family fun activities such as crafts, readings, drawings and so much more. It'll be a day you will thoroughly enjoy and one you will want to repeat every year! http://readfest.org/
22. AWP Conference and Bookfair, March 8–11, 2023, Seattle, WA. At the AWP Conference and Bookfair, you'll find hundreds of authors, publishers, and exhibitors. There will be panel discussions and a keynote speaker. https://www.awpwriter.org/awp_conference
23. AWP Conference and Bookfair, March 8-11, 2023, Philadelphia, PA. The AWP Conference & Bookfair is the annual destination for writers, teachers, students, editors, and publishers of contemporary creative writing. It includes thousands of attendees, hundreds of events and bookfair exhibitors, and four days of essential literary conversation and celebration. https://www.awpwriter.org/awp_conference
24. Palm Beach Book Festival, March 9-11, 2023, Boca Raton, FL. The Palm Beach Book Festival is an annual gathering of NY Times, best-selling award-winning, celebrity authors, taking place in the Palm Beaches. https://www.palmbeachbookfestival.com/
25. New Orleans Book Festival At Tulane, March 9-11, 2023, New Orleans, LA. The New Orleans Book Festival will bring the world's leading authors to Tulane University for a multi-day celebration of their works. https://bookfest.tulane.edu/
26. New Orleans Book Festival, March 9-11, 2023, New Orleans, LA. Held on Tulane University's uptown campus, the New Orleans Book Festival is a three-day celebration which draws in a diverse line-up of authors, chefs and musicians each year. It returns next March, with names confirmed so far including political commentator David Brooks, journalist Amanda Ripley, activist Sandy Rosenthal and many more. Family Day will offer activities for children of all ages, including events with Donna Edwards and Marti Dumas. https://bookfest.tulane.edu/
27. 38th Annual Texas Storytelling Festival, March 9-12, 2023, Denton, TX. Join the masters of storytelling at the Texas Storytelling Festival in Denton, Texas. Held over four days, this festival brings together the best in storytelling for an oral tradition that can be enjoyed by all ages. Tales of all genres are shared, and various bands perform throughout the event. https://tejasstorytelling.com/festival/
28. Left Coast Crime, March 16–19, 2023, Tucson, AZ. Left Coast Crime is an annual mystery convention sponsored by mystery fans, both readers and authors. LCC is held during the first third of the year in Western North America. https://leftcoastcrime.org/
29. Virginia Festival of the Book, March 23-26, 2023, Charlottesville, VA. The Virginia Festival of the Book brings together writers and readers to promote and celebrate books, reading, literacy, and literary culture. Featuring the annual Festival in March plus the year-round Shelf-Life virtual event series, their programming offers something for readers of all levels and interests. https://www.vabook.org/festival-info/
30. Tennessee Williams & New Orleans Literary Festival, March 22-26, 2023, New Orleans, LA. The Tennessee Williams & New Orleans Literary Festival is a five-day New Orleans affair for writers, readers, and theater lovers. https://tennesseewilliams.net/
31. Algonkian Writer Retreat and Novel Workshop, March 22-26, 2023, Algonkian Park, VA. In keeping with the spirit of this place and the goals of this unique workshop retreat, you can be as goal-oriented or as hesitant in approach as you wish. You can show us your manuscript, improve your skills, have your work read by their writer mentors, attend their workshops, pitch a literary agent or two, whatever works for you, whatever helps you grow and discover your vision as a writer. http://algonkianconferences.com/AlgonkianWriterRetreat/
32. Revival: Lost Southern Voices, March 23-25, 2023, Atlanta, GA. Revival: Lost Southern Voices, a festival for readers, is a celebration of lost or underappreciated Southern writers' work. https://perimeter.gsu.edu/lost-southern-voices-festival/
33. Venice Book Fair and Writers Festival, March 24-25, 2023, Venice, FL. An event for book lovers. Authors selling and signing their latest books in Centennial Park. Proceeds benefit the Venice Heritage Inc. https://venicebookfair.com/
34. Southern Kentucky Book Fest, March 24-25, 2023, Bowling Green, KY. The Southern Kentucky Book Fest is one of the state's largest literary events. Held in Bowling Green, Kentucky each April, Book Fest draws thousands of readers of all ages who welcome the occasion to meet their favorite authors and purchase signed copies of their books. https://sokybookfest.org/
35. 20th Annual Saints and Sinners Literary Festival, March 24-26, 2023, New Orleans, LA. Created in 2003, the Saints and Sinners Literary Festival helps educate the community on HIV/AIDS. It brings together writers, thinkers, and spokespeople. https://www.sasfest.org/
36. Minnesota Writing Workshop, March 25, 2023, St. Paul, MN. The Minnesota Writing Workshop is a two-day "How to Get Published" writing event in typically in St. Paul, MN. It recurs each year. All writers are welcome. https://minnesotawritingworkshop.com/
37. SOKY Book Fest, March 25, 2023, Bowling Green, KY. Southern Kentucky Book Fest is one of the state's largest literary events and is presented by Barnes & Noble Booksellers and Warren County Public Library. Held annually, the Book Fest draws thousands of readers of all ages who welcome the occasion to meet their favorite authors and purchase signed copies of their books. https://sokybookfest.org/bookfest/
38. Oxford Conference for the Book, March 29-31, 2023, Michigan. MS. Founded by the Center for the Study of Southern Culture and Square Books, the Oxford Conference for the Book brings together fiction and nonfiction writers, journalists, artists, poets, publishers, teachers, students, and literacy advocates for three days of conversation in the literary town of Michigan, Mississippi. https://oxfordconferenceforthebook.com/
39. Books Along the Teche Literary Festival, March 31 to April 02, 2023, New Iberia, LA. A celebration of Southern writing and culture, the Books Along the Teche Literary Festival takes place in and around the charming town of New Iberia, and features authors, social events, panel discussions, and more. The popular annual gathering draws bibliophiles, arts enthusiasts, lovers of Louisiana cuisine and music. https://booksalongthetecheliteraryfestival.com/
40. Liberty States Fiction Writers Conference, April 1-2, 2023, Hamilton, NJ. The Liberty States Fiction Writers presents two full days of activities to develop and promote writers of all levels of experience and every genre, as well as the opportunity to pitch works to prominent editors and literary agents. A separate Reader Track will offer those who love a good read the chance to meet authors in attendance and discuss their works. http://www.libertystatesfictionwriters.com/conference/
41. Norwescon 45: Between Two Worlds, April 6-9, 2023, SeaTac, WA. Norwescon is the Pacific Northwest's premier science fiction and fantasy convention, and one of the largest entirely volunteer-operated regional conventions in the United States. https://www.norwescon.org/
42. Las Vegas Writers Conference, April 13-15, 2023, Las Vegas, NV. Held each spring, the Las Vegas Writers Conference is dedicated to helping writers of all genres improve their craft, sharpen their business skills, and network with publishing professionals. http://lasvegaswritersconference.com/
43. Alabama Book Festival, April 15, 2023, Montgomery, AL. The Alabama Book Festival is an annual event to promote literacy around the state and celebrate local authors. The annual book festival is a family-friendly, free event that includes book-related activities for all ages. Among the 60-plus exhibitors will be publishers, authors, schools, libraries and literary and arts organizations. http://www.alabamabookfestival.org/
44. BAM Festival, April 15, 2023, West Palm Beach, FL. BAM Festival merges books, art, and music for teachers, students, and families, and features a number of children and young adult authors and illustrators. https://www.bamwpb.org/
45. A Rally of Writers, April 15, 2023, Lansing, MI. Held every spring for the past 35 years (except for the two Covid years) in Lansing, Michigan, A Rally of Writers features 16 sessions of Michigan writers, poets, teachers, editors and publishers discussing every aspect of writing and the publishing business. Choose among four sessions that run simultaneously. https://arallyofwriters.wordpress.com/
46. Get Lit! Literary Arts Festival, April 20-23, 2023, Spokane, WA. The Get Lit! Festival began in 1998 as a one-day marathon of literary readings sponsored by Eastern Washington University Press and EWU's Department of Creative Writing. Then The Spokesman-Review lovingly called it the little literary festival that could, and they were right. By 2004, the audience had swelled to 10,000 people from Spokane and the surrounding region. https://inside.ewu.edu/getlit/
47. Unbound Book Festival, April 20-23, 2023, Columbia, MO. The Unbound Book Festival brings nationally and internationally recognized authors of world-class renown to Columbia, Missouri, to talk about their books, their work, and their lives. https://www.unboundbookfestival.com/
48. Midwest Literary Walk, April 22, 2023, Chelsea, MI. For more than a decade this unique literary event has showcased more than 60 award-winning authors and poets at historic venues throughout downtown Chelsea. It includes author talks, book signings, and is free and open to the public. https://midwestliterarywalk.org/
49. Ohioana Book Festival, April 22, 2023, Columbus, OH. Since its inception in 2007, the Ohioana Book Festival has given readers the opportunity to connect with their favorite Ohio writers. Held each spring, the festival welcomes roughly 140 authors and more than 3,000 visitors every year. http://www.ohioana.org/programs/ohioana-book-festival/
50. Los Angeles Festival of Books, April 22-23, 2023, University of Southern California, LA. Now in its 27th year, the Los Angeles Times Festival of Books brings together not just writers, but also artists, chefs, filmmakers and musicians. It takes place on the University of Southern California campus, with a mixture of indoor and outdoor events, and hundreds of exhibitor booths and author signings. https://events.latimes.com/festivalofbooks/
51. Chanticleer Authors Conference, April 27-30, 2023, Bellingham, WA. The Chanticleer Authors Conference is an event unlike any other. They host a wide variety of guest speakers and experts that wow experienced authors and help new authors take their publishing game to the next level. https://www.chantireviews.com/chanticleer-conference/
52. Newburyport Literary Festival, April 28-30, 2023, Newburyport, MA. The Newburyport Literary Association, Inc., was founded in 2005 and hosts an annual Festival that brings together readers and writers for a weekend of readings, panel discussions, and other book-related events. https://newburyportliteraryfestival.org/
53. Annapolis Book Festival, April 29, 2023, Annapolis, MD. The Annapolis Book Festival is one of the premier community events in the region. Join the Key School for activities, music, refreshments, and more. Every year thousands of people enjoy this free community Festival that celebrates the beauty, power, passion, and excitement of the written word. The festival is bringing nationally and internationally renowned authors to the community to discuss their books and the craft of writing. The festival also features a day filled with children's activities, live music, food, and a huge used book sale. https://www.keyschool.org/community/annapolis-book-festival
54. YALLWEST Book Festival, April 29, 2023, Santa Monica, CA. Over 60 authors and presenters including New York Times Bestsellers along with local and acclaimed young adult and middle grade writers, plus notable TV, film, video game, and comic creators. A day of panels, book signings, food trucks, bad jokes, rock 'n' roll, killer photo ops & general geeky shenanigans. Festival is free and open to the public. https://www.yallwest.com/
55. Nonfiction Writers Conference, May 3-5, 2023, Gold River, CA. Since the Nonfiction Writers Conference began in 2010, their mission has always been to take the traditional writers' conference experience and deliver it online. This allows more people to attend from around the world, saving valuable time and travel expenses. It also delivers powerful access to speakers during LIVE learning sessions with interactive Q&A. https://nonfictionwritersconference.com/
56. Oklahoma Writers Federation Conference, May 4-6, 2023, Oklahoma City, OK. Enjoy sessions with publishing experts who can provide career-advancing knowledge. Speakers on legal issues, short stories, writing for film, editing, literary agents and publicists. Space is also provided for attendees to sell their books. https://www.owfi.org/#!conference/
57. Massachusetts Poetry Festival, May 5-7, 2023, Salem, MA. During the first weekend of May, Salem becomes the epicenter of contemporary American poetry, offering rare opportunities to hear the nation's best poets read and discuss their work in intimate and engaging forums. The Massachusetts Poetry Festival showcases nearly 100 poetry readings and workshops, a small press and literary fair, panels, poetry slams, visual arts, and open-air performances. https://masspoetry.org/
58. Hudson Children's Book Festival, May 6, 2023, Hudson, NY. The Hudson Children's Book Festival, established in 2009, is held each year in the historic city of Hudson, NY, and strives to create, sustain, and nurture a culture of literacy in partnership with their community and schools. This free, public event fosters a love of reading as families meet and greet world-class creators of books for children of all ages. https://hudsonchildrensbookfestival.com/
59. LitFest Pasadena, May 6-7, 2023, Pasadena, CA. Founded in 2012, LitFest Pasadena is the free, community literary festival with over 200 authors, publishers, editors, agents, and poets participating in over 60 panel discussions, readings, and workshops at venues throughout Playhouse Village. https://litfestpasadena.org/
60. Bay Area Book Festival, May 6-7, 2023, Martin Luther King, Jr. Civic Center Park, Berkeley, CA. Since 2015, Bay Area Book Festival has featured the boldest and most brilliant literary voices in conversations about issues that matter, with a focus on justice and diversity. https://www.baybookfest.org/2023info/
61. Montclair Literary Festival, May 06, 2023, Montclair, NJ. Montclair Literary Festival is a community-wide event that aims to exchange ideas, inspire future literary works and engage with different points of view. Working closely with the Montclair Public Library, Montclair Art Museum, Watchung Booksellers and a team of local volunteers, the festival will also generate lasting connections between arts institutions, the schools and the community, benefiting a broad cross-section of participants and attendees. http://succeed2gether.org/montclair-literary-festival/
62. Bay Area Book Festival, May 6-7, 2023, Berkeley, CA. They're a world-class literary extravaganza taking place each year over two days in Downtown Berkeley. All their programming—250-300 authors on 15 stages—is accessible with one $15 pass, and their Outdoor Fair, a wonderland of literary vendors, kids' activities, and family fun, is totally free. https://www.baybookfest.org/
63. Greater Pittsburgh Festival of Books, May 12-13, 2023, Pittsburgh, PA. The Greater Pittsburgh Festival of Books (GPFB) showcases Pittsburgh's historic, vital role on the national and international literary stage. Readers, writers, booksellers, publishers, critics, educators, and neighbors will connect with, learn from, and support each other. With free, diverse programming featuring nationally recognized authors (many living in Western Pennsylvania), and across age, genre, and background, the festival will celebrate the joys of literacy.
64. San Antonio Book Festival, May 13, 2023, San Antonio, TX. The free, daylong event is a gift to visitors and the citizens of San Antonio, bringing books to life through author presentations, innovative panel discussions, and book sales and signings. Also included in this fun day of literary entertainment are family activities such as children's theater performances, a technology area, interactive play and art stations, and a selection of the city's famous food trucks. https://sabookfestival.org/
65. Kachemak Bay Writers' Conference, May 13-16, 2023, Homer, AK. Held in Homer, Alaska, this nationally recognized writing conference features workshops, readings and panel presentations in fiction, poetry, nonfiction, and the business of writing. Since 2002, the Kachemak Bay Writers' Conference has been at the heart of Alaska's growing literary community. With its focus on community and craft, this conference strives to celebrate and enhance the connection between writers and readers in their communities. http://writersconf.kpc.alaska.edu/
66. FWCW Ignite Your Imagination Writer's Conference, May 18-21, 2023, Tampa, FL. We offer craft and career-building workshops, an opportunity to pitch to an editor, and a unique forum to meet and interact with readers. Reserve your book signing table before the registration deadline of 4/1/23. Budget-friendly rates and lots of friendly faces. More info and registration form at: https://www.fwcwriters.com/.
67. Biographers International Organization (BIO) Conference, May 18-21, 2023, Santa Fe, NM. The conference features panels on current issues in biography and the craft of biography, including discussions on building suspense, getting into print, Black women's biography, and more. https://biographersinternational.org/conference/
68. Maine Romance Writers Retreat, May 19-20, 2023, Portland, ME. Maine Romance Writers strongly supports their members through education, advocacy, networking, support and recognition of the romance genre. The MRW annual retreat weekend features speakers on a variety of topics related to researching, writing, and self-promotion. https://www.maineromancewriters.com/p/retreat.html
69. Short Story Fest, May 20-21, 2023, Baltimore, MD. Short Story Fest is an annual literary celebration held each year in May, coinciding with National Short Story Month. The purpose of the festival is to bring together readers and writers who enjoy great storytelling, inspiring people of all ages and backgrounds to discover for themselves the transformative wonders of a well-written tale. https://shortstoryfest.com/
70. Gaithersburg Book Festival, May 20, 2023, Gaithersburg, MD. Since its inception in 2010, the festival has quickly become one of the nation's top literary events, attracting hundreds of award-winning and best-selling authors, poets and songwriters from across the country to its beautiful park setting. https://www.gaithersburgbookfestival.org/
71. Blue Ridge Mountains Christian Writers Conference, May 28 – June 1, 2023, Ridgecrest, NC. The Blue Ridge Mountains Christian Writers Conference began nearly four decades ago as a spirit-filled environment where writers could move forward in their writing journey and publishing dreams. The legacy event is focused on God's path for each writer, and the conference is dedicated to meeting professional and spiritual needs. https://www.blueridgeconference.com/
72. Book Lovers Con, June 1-4, 2023, Orlando, FL. Book Lovers Con is an event full of fun and laughter where readers will meet their all-time favorite authors and find new-to-you authors you never knew were missing from your collection! https://www.bookloverscon.com/
73. WCU Poetry Center Poetry and Creative Arts Festival, June 09-11, 2023, West Chester, PA. Working with a shared respect and understanding of craft, The Poetry and Creative Arts Festival gives poets and critics, musicians, as well as visual and performing artists opportunities to forge connections across disciplines, to delve into innovative approaches to artmaking, to engage new media and technology, to reconsider the power of revision, and to sharpen their critical lenses. https://www.wcupa.edu/arts-humanities/poetry/poetryConference.aspx
74. Write-to-Publish Conference, June 13-16, 2023, Wheaton, IL. Since 1971, Write-to-Publish has been training, inspiring and encouraging Christian writers, connecting them with editors to help them improve their craft, with publishers who are looking for good books to publish, and with literary agents who can represent them. https://writetopublish.com/
75. Nantucket Book Festival, June 15-18, 2023, Nantucket, MA. The Nantucket Book Festival has established itself as a major summer destination for booklovers with impressive and eclectic line-ups of award-winning authors. The multi-day festival offers author readings, panel discussions and social events in an informal atmosphere that encourages conversations between writers and readers. Most of the Festival events are free and held within walking distance of the ferries. https://nantucketbookfestival.org/
76. Aspen Summer Words Writing Conference, June 18-23, 2023, Aspen, CO. The conference features workshops, including a workshop with a focus on revision, for poets, fiction writers, and nonfiction writers; panels; and readings; as well as opportunities to meet with agents and editors. https://www.aspenwords.org/programs/summer-words/
77. Jackson Hole Writers Conference, June 22-24, 2023, Jackson Hole, WY. The annual Jackson Hole Writers Conference brings top agents, editors and authors together each June for a celebration of the craft of writing. For more than thirty years, diverse groups of passionate professional and novice writers have gathered at the Jackson Hole Writers Conference. While attending workshops and keynote addresses at the Jackson Hole Center for the Arts, writers learn about the craft of writing, share ideas, and make new friends while networking with authors, editors and agents from myriad backgrounds. https://jhwriters.org/conference/
78. American Library Association Annual Conference, June 23 – 26, 2023, Chicago, IL. Over 25,000 experts in the industry will help you take your career to new heights. As the world's largest library event, the ALA Annual Conference & Exhibition brings together thousands of librarians and library staff, educators, authors, publishers, friends of libraries, trustees, special guests, and exhibitors. https://2023.alaannual.org/
79. International Christian Retail Show (ICRS) 2023, June 25-28, 2023, Georgia World Congress Center, Atlanta, GA. Sara Bolme, author of Your Guide to Marketing Books in the Christian Marketplace, considers this the best book show for Christian authors. International Christian Retail Show will provide a huge platform for the coming together of suppliers and retailers of Christian products from all across the world. This event therefore is an excellent forum where sellers will get to meet buyers directly and this event will stage a wide collection of Christian products and items under one roof. This event therefore will cut down on the efforts of people to go from shop to shop and thus will save their time and energy. https://www.innovopublishing.com/the-international-christian-retail-show.html
80. Clarion Science Fiction and Fantasy Writers' Workshop, June 25-August 05, 2023, San Diego, CA. Established in 1968, the Clarion Science Fiction and Fantasy Writers' Workshop is the oldest workshop of its kind and is widely recognized as a premier proving and training ground for aspiring writers of fantasy and science fiction. Applications are judged by a student selection committee. The review panel selects 18 applicants and a few waitlist students. All applicants are notified of their status by late March/early April. The review panel does not comment or give feedback on stories. http://clarion.ucsd.edu/
81. The RBMS Booksellers' Showcase, June 27-30, 2023, Indiana University, Bloomington, IN. The RBMS Booksellers' Showcase offers a variety of exhibitors and products like original art and illustration and manuscripts. https://rbms2023.us2.pathable.com/
82. Sleuthfest, July 6-9, 2023, Boca Raton, FL. Sleuthfest is all about writing workshops, social events, and pitch sessions for mystery, suspense, and thriller writers. Sessions will be held on the craft of writing, marketing and promoting your work, and practicing your pitch with experienced authors. https://sleuthfest.com/
83. Readercon, July 13-16, 2023, Quincy, MA. The premiere book festival for science fiction, fantasy, and speculative fiction took a break over the pandemic (including last year), but they are all set for an in-person convention next July. https://readercon.org/
84. Detroit Festival of Books, July 16, 2023, Detroit, MI. The Detroit Festival of Books is the largest book festival in the State of Michigan. They have vendors from all over the USA and Canada. The Bookfest is dedicated to promoting the joy of reading and the rich culture surrounding it. https://detroitbookfest.com/
85. Bread Loaf Writers' Conference, August 16-26, 2023, Ripton, VT. The Bread Loaf Writers' Conference, founded in 1926, is one of the oldest and finest of its kind in the country. The conference features workshops in poetry, fiction, and creative nonfiction, as well as lectures; craft classes; meetings with editors, agents, and publishers; and readings by faculty and guests. https://www.middlebury.edu/writers-conferences/
86. Killer Nashville International Writers' Conference, August 17-20, 2023, Franklin, TN. The Killer Nashville International Writers' Conference is a four-day event bringing together some of the world's best authors, aspiring writers, agents, editors, and other industry professionals. https://www.killernashville.com/
87. Mississippi Book Festival, August 19, 2023, Jackson, MS. The Mississippi Book Festival, a nonprofit founded by literacy advocates, launched in August 2015 on the State Capitol grounds and continues to draw thousands to its annual "literary lawn party" and book lovers' celebration. Visit their Replay festival pages for highlights, pictures and videos of past festivals. https://msbookfestival.com/
88. American Christian Fiction Writers Conference, August 24-27, 2023, St. Louis, MO. Each year, hundreds of veteran authors and those just learning the craft of Christian fiction gather in a setting like this to hear skilled instructors, inspiring keynoters…to gain from the insights of industry professionals…to interact with other writers…and to present their ideas to agents and editors looking for stories like theirs, or to mentors who can help them move forward in their writing career. https://acfw.com/acfw-conference/
89. Bouchercon World Mystery Convention, August 30-September 03, 2023, San Diego, CA. The World Mystery Convention is a nonprofit, all-volunteer organization which holds an annual convention in honor of Anthony Boucher, the distinguished mystery fiction critic, editor and author. Bouchercon is their annual world mystery convention where every year readers, writers, publishers, editors, agents, booksellers, and other lovers of crime fiction gather for a 4-day weekend of education, entertainment, and fun! https://www.bouchercon.com/
90. Bumbershoot, September 1-3, 2023, Seattle, WA. The Seattle Arts Festival always has active coffee houses and a book fair spotlighting literary artists. https://www.seattlecenter.com/events/festivals/bumbershoot
91. The Appalachian Writer's Conference, Sept. 7-8, 2023, Berea, KY. The conference is a literary workshop that offers beginning and intermediate writers a chance to sharpen existing skills and learn new techniques from award-winning, seasoned novelists, non-fiction writers, memoirists, and poets. The conference takes place in the heart of Appalachia in Berea, Kentucky, the state's Artisan capitol, where guests will stay at Historic Boone Tavern Hotel and enjoy hiking, biking, kayaking, shopping at the many craft stores, and have a chance to meet Kentucky Artisans. Registration is $395. https://www.appalachianwritersconference.com/
92. Carolina Mountains Literary Festival, September 7-9, 2023, Burnsville, NC. Their mission is to bring together, in small, intimate settings, authors, readers of all ages, novice writers, listeners, and learners. They are a festival of readers who appreciate discussing the ideas in literature. https://cmlitfest.org/
93. Printers Row Lit Fest 2023, September 9-10, 2023, Chicago, IL. This is a large book fair with more than 150,000 book lover attendees. https://printersrowlitfest.org
94. Kansas Book Festival, September 16, 2023, Topeka, KS. This event, designed to celebrate the best of Kansas literature, arts and history, will offer a variety of activities for Kansans of all ages, including meet-the-author sessions, panel discussions, book signings and sales, and a special tent with projects for children. This event is free and open to the public. https://www.kansasbookfestival.com/
95. The Bookmarks 18th Annual Festival of Books & Authors, September 21 – 23, 2023, Winston-Salem, NC. Bookmarks connects people and books through its annual festival, which has been around for over 17 years. https://www.bookmarksnc.org/festival
96. Washington Island Literary Festival, September 21-23, 2023, Washington Island, WI. The Washington Island Literary Festival is a moveable feast of writing, reading, discussion, and thought about the written word. Writers' workshops, author panels and presentations, readings and parties are scheduled at various quaint, historic and beautiful venues around the Island. https://writeondoorcounty.org/events/conferences/wilf/
97. The South Dakota Festival of Books 2023, September 22-24, 2023, in Deadwood, SD. It connects more than 4,000 attendees and more than 50 noteworthy authors, scholars, and publishers. http://sdhumanities.org/festival-of-books/
98. Harbor Springs Festival of the Book, September 22-24, 2023, Harbor Springs, MI. Held in beautiful Harbor Springs, Michigan, the Festival is a three-day celebration of readers, writers, books, and the literary craft. They feature 50+ nationally published authors and illustrators in sessions including eight genres: fiction, nonfiction, mystery/thriller, poetry, cookbook, picture book, middle grade and young adult. https://www.hsfotb.org/
99. Milford Readers and Writers Festival, September 22-24, 2023, Milford, PA. The Milford Readers and Writers Festival aims to inspire and ignite conversations between people who love to read books and people who write them. http://milfordreadersandwriters.com/
100. The Brooklyn Book Festival, 25 September – 3 October 2023, Brooklyn, NY. New York's biggest free literary festival is held each year in Brooklyn, bringing together readers and writers from all over the world for a week of talks, shopping and more. https://brooklynbookfestival.org/
101. Twin Cities Book Festival, October 14, 2023, St Paul, MN. Twin Cities Book Festival, one of the biggest gatherings of book lovers in the state, celebrates its 20th anniversary with everyone returning in person to the Minnesota State Fairgrounds from 10 a.m. to 5 p.m. Saturday, Oct. 16. Presented by Rain Taxi Review, the festival is free, and there is plenty of free parking at the fairgrounds. https://twincitiesbookfestival.com/
102. The Seattle Antiquarian Book Fair 2023, October 14-15, 2023, Seattle Center Exhibition Hall, Seattle, WA. The Seattle Antiquarian Book Fair features exhibitors from the U.S., Canada, and Europe. https://www.seattlebookfair.com/
103. West Coast Christian Writers Conference, October 18-20, 2023, Brentwood, CA. West Coast Christian Writers Conference is an online conference, with keynote sessions, workshops, coaching groups, and appointments for writers at all levels. https://westcoastchristianwriters.com/
104. Southern Festival of Books, October 14-16, 2023, Nashville, TN. The Southern Festival of Books: A Celebration of the Written Word is among the oldest literary festivals in the country, annually welcoming hundreds of authors and thousands of visitors to downtown Nashville each October. The festival is free, and includes performance stages, food trucks, and loads of publishers and booksellers. After two years of virtual programming, they look forward to seeing you on The Plaza. https://sofestofbooks.org/
105. Las Vegas Book Festival, October 21, 2023, Las Vegas, NV. The Las Vegas Book Festival is the largest literary event in Nevada. Their annual celebration of the written, spoken and illustrated word is free and open to the public. https://lasvegasbookfestival.com/
106. Louisiana Book Festival, October 28, 2023, Baton Rouge, LA. The Louisiana Book Festival is a free, nationally recognized literary event that typically takes place live and in-person around Capitol Park in Baton Rouge. The festival offers you a chance to see exceptional writers, find new books to read, and enjoy some thought-provoking presentations. http://louisianabookfestival.org/
107. Louisville Book Festival, November 10-11, 2023, Louisville, KY. The 2023 Louisville Book Festival will be held in downtown Louisville, KY on November 10th and 11th from 10 am to 6 pm at the Kentucky International Convention Center. This year will continue to give us the opportunity to celebrate the city's culture and resiliency, while striving towards the goal that all children have access to books in their home. https://www.louisvillebookfestival.com/
108. Indie Book Fair, November 19, 2023, Orlando, FL. The Indie Book Fair's mission is to create a space to allow independent authors to sell and showcase their work, build their readership and make everyone aware of their brand. The vision is through multiple book fair events that are FREE to the public and will include virtual buying for readers who cannot attend. The fair will be held 3 times a year. https://www.indiebookfair.net/
The Bottom Line: Take a break from your pen and attend one of these top book fairs and festivals. You won't regret it!
Book publicist Scott Lorenz is President of Westwind Communications, a public relations and marketing firm that has a special knack for working with authors to help them get all the publicity they deserve and more. Lorenz works with bestselling authors and self-published authors promoting all types of books, whether it's their first book or their 15th book. He's handled publicity for books by CEOs, CIA Officers, Navy SEALS, Homemakers, Fitness Gurus, Doctors, Lawyers and Adventurers. His clients have been featured by Good Morning America, FOX & Friends, CNN, ABC News, New York Times, Nightline, TIME, PBS, LA Times, USA Today, Washington Post, Woman's World, & Howard Stern to name a few.
Learn more about Westwind Communications' book marketing approach at https://www.WestwindBookMarketing.com or contact Lorenz at [email protected] or 734-667-2090 or fill out the form below. Follow Lorenz on Twitter @aBookPublicist. Want help titling a book? Check out Scott Lorenz's new award winning, bestselling book: Book Title Generator- A Proven System in Naming Your Book www.BookTitleGenerator.net.
Would you like help promoting your book?
If so, tell us a little about your book. What is the title? Do you have a publisher? What is the publish date? How many pages is your book? What is the cost? Do you have web site? What is your specific goal I.E., to make money, raise awareness, get the attention of an agent or publisher, sell the story to a movie or TV studio or something else?
Submit the form below with this information and we'll get back to you as soon as possible. Thank you!